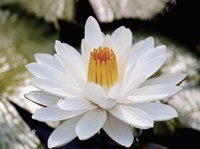 The ease or difficulty of picking and enjoying a cut water lily blossom depends on access to the plant in its water environment. Water lily (Nymphaea spp.) flowers typically open for one or two days to as many as five days and can be cut from the plant and floated in a bowl of water. Aquatic plants grown in above-ground tubs or in shallow ornamental pools are more easily accessible by hand without wading into the water to pick the water lily blossom.
Locate a water lily with flower buds that are swollen or just beginning to open. Newly opening buds are brightly-colored and feel firm to the touch when gently squeezed. Old, deteriorating flowers have a soft, mushy texture and often have browned petals or interior stamens.
Gently lift the chosen lily flower or bud from the water and slide your hand down to the stem. Move one hand onto the stem while the other gently supports the flower out of the water, or just above it.
Trace the stem of the water lily flower downward into the water, keeping your fingers on the stem. At at depth or stem length of 12 to 18 inches, pinch the stem with your finger tips to cut it.
Lift the water lily flower out of the water with its long stem.
Move the cut flower to the location you wish to place it, whether it be indoors in a clear, deep bowl of water or to another water garden.
Slice the stem at an appropriate length with a paring knife, taking care to quickly slice the stem at a 45- to 60-degree angle and not crushing the stem cut opening.
Immediately place the water lily blossom into water. Remove and re-cut the stem to a short length if necessary to get the lily blossom to float upright or rest properly. Match the water temperature to what the plant was currently submerged. For example, a tropical water lily in warm water should have its cut flower also placed in fresh, room temperature water, not ice-cold water.
Cut off an additional 2 to 3 inches of stem the next morning if the water lily blossom again opens. This fresh cut helps in continual uptake of water into the stem and flower.