Things You'll Need
Sheet of 3/8-inch plexiglass, cut to the desired size

Dry erase marker and eraser or clean rag

Ruler

Power drill with 1/8 bit

Picture hanging wire

Stud finder (optional)

1 to 2 picture hooks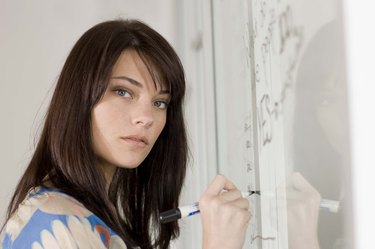 Dry erase boards make useful planning tools, but they can be expensive. You can write and erase on them as well as hang a calendar, reference material or even art work behind a clear dry erase board for immediate accessibility. You can make your own dry erase board with materials available at any home improvement store in less than an hour. You'll find making a homemade dry erase board so simple and inexpensive that you can have one anywhere you need to keep notes or make temporary lists.
Make a Clear Dry Erase Board
Step 1
Place the sheet of plexiglass on a sturdy surface. Decide whether you will hang the dry erase board horizontally or vertically and mark the top edge with the dry erase marker.
Step 2
Measure 3 to 6 inches from the top edge of the plexiglass, depending on the overall size of the dry erase board. For a larger board, measure deeper into the board. For a small board, measure closer to the top edge. Draw a line at your measurement, parallel the top edge.
Step 3
Make two marks on the line 3 to 6 inches from each side. These marks show where you will drill holes to hang the white board.
Step 4
Use the power drill to drill two holes, one at each point you marked, 3 to 6 inches from the top and side edges. Drill slowly, because the plexiglass will heat up as you drill. Quickly use a rag to smooth out the rough edges of each hole before the plexiglass cools.
Step 5
Find two studs in the wall where you want to hang the dry erase board. Follow the manufacturer's instructions to hang a picture hook in each stud.
Step 6
Thread picture wire through both holes in the plexiglass and tie them securely together to form a circle. Pull the knot tight and make sure it will hold the weight of the plexiglass.
Step 7
Hang the plexiglass by the picture wire on the two hooks in the wall.
Tip
Any dry erase or wet erase marker will work on plexiglass without leaving streaks. If you have trouble erasing a wet erase marker, use a little rubbing alcohol. Hang the plexiglass so that the line of picture wire comes between the plexiglass and the wall.
Warning
Do not drill too close to the edges of the plexiglass or it will crack. Be sure to smooth out the holes in the plexiglass immediately. It will cool quickly, making it impossible to smooth the rough edges.