Sri Lanka is an Asian island country located southeast of India. One of its staple crops is rice, according to the Central Intelligence Agency's World Factbook. Sri Lanka harvests mainly red rice, a grain that has a richer, earthier flavor than brown or white rice. The cuisine of Sri Lanka incorporates basic boiled red rice into many of its dishes, but balances the strong flavor of the red rice with the sweet notes of coconut for a distinctive taste.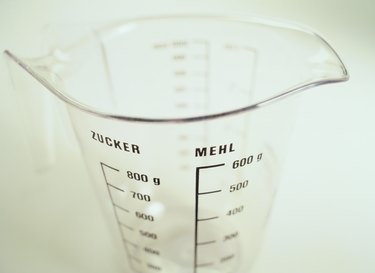 Things You'll Need
Plastic Spatula

3 Cups Water

1/2 Tsp. Salt

13-Inch By 9-Inch Glass Baking Dish

Spoon

14 Oz. Canned Coconut Milk

2 Cups Sri Lankan Red Rice

Large Saucepan With Lid
Step 1
Add 2 cups of Sri Lankan red rice, 3 cups of water and 1/2 tsp. of salt to a large saucepan on your stovetop. Stir the ingredients together and set your stove to "high."
Step 2
Heat the ingredients until the water starts to boil, then set the heat down to "low." Place a lid onto the saucepan and heat the rice for 20 to 30 minutes or until it is softened.
Step 3
Remove the lid and pour in 14 oz. of canned coconut milk. Stir the milk gently into the rice and heat uncovered for approximately 10 to 15 minutes, or until the milk soaks into the rice (the mixture will be smooth and creamy).
Step 4
Transfer the rice into a 13-inch by 9-inch glass baking dish. Use a plastic spatula to spread the rice evenly across the bottom of the dish in a thin, even layer.
Step 5
Serve the Sri Lankan red rice immediately for a looser, creamier version. Let the rice stand at room temperature or chill it in the refrigerator until it firms up, then slice into squares if you prefer a denser version. Do not bake the dish--the high heat will dry out the rice.
Tip
Purchase canned coconut milk in the international foods section at the grocery store.
Warning
Always measure the water and rice proportions carefully--too little water will make the rice hard, while too much will result in soggy rice.