Things You'll Need
Glass vase

Star-shaped balloons

Jelly beans

Pillar candles

Ruler

Scissors

Patterned paper

Double-sided tape

Tissue paper

Plastic straws

Charms

Earring wire

Construction paper

White glue

Wood craft stick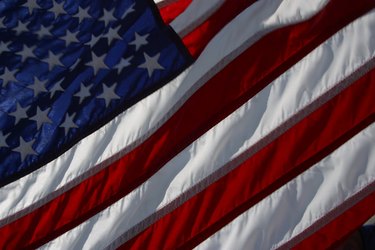 Give your home a patriotic feel by designing craft projects to adorn the rooms or serve as festive decorations for a Fourth of July party. Gather inexpensive red, white and blue craft supplies and enlist the kids to help you create the handmade decorations. Determine how you'll use the completed crafts and consider your time limit and budget when choosing Fourth of July decorating ideas to suit your needs.
Step 1
Make decorations for the buffet, dinner or gift table by creating a simple arrangement in tall glass cylinder vase. Use six to 12 red, silver and blue helium-filled, star-shaped Mylar balloons, which you can purchase at a party supply store. Place the plastic anchor piece attached to the balloons in the vase so the balloons stick out like flowers. Pour layers of blue, white and red jelly beans into the vase to fill it and conceal the anchor.
Step 2
Create votives as handmade decorations for an evening event by buying white 6- to 8-inch-tall pillar candles at a dollar store. Use a ruler and scissors to measure and cut a piece of Independence Day-themed patterned paper to wrap around each candle, leaving 1/2 inch on the top and bottom uncovered for contrast. Affix the paper to the candle with double-sided tape and tie a red bow around the center to complete the decoration.
Step 3
Design paper "sparklers" that can serve as decorations and a party favor that the kids can play with. Use scissors to cut 4-inch squares of red, white and blue tissue paper. Use scissors to snip 3-inch long cuts into the tissue spaced 1/4 inch apart to create fringe. Stack one piece of red, white and blue tissue and roll the uncut edge of the stack around a plastic drinking straw and secure it with tape. Let the kids shake or blow into the straws.
Step 4
Design practical Fourth of July decorations such as wine glass charms for the adults. Simply thread metal charms shaped like flags or summer-themed shapes onto wire used to make silver hoop earrings. Slip the wire around the stem of a wine glass so guests can find their drink throughout the Independence Day party. Ensure you only buy one of each style of charm so the guests don't get their glasses mixed up.
Step 5
Produce holiday decor that guests can also use to beat the heat. Make paper fans that will help guests stay cool. Cut 6-inch squares of red and blue construction paper, two pieces for each fan. Embellish each piece with stickers that suit the theme such as stars, flags, fireworks or red, white and blue dots or stripes. Use white glue to affix the back of each cardstock piece to a wood craft stick or wood dowel to assemble the fan.