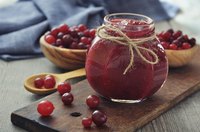 Sure Jell gets its name from its reliability. The main ingredient in Sure Jell, pectin, is an effective, natural gelling agent that thickens fruits when heated, turning them into spreadable jam. Low-sugar varieties of Sure Jell allow you to use less sugar than regular Sure-Jell, but they also contain dextrose, a natural sweetener. You can store jam made with Sure Jell in an airtight container up to one month in the refrigerator, but if you use canning jars and a pressure canner, you can store the jam up to one year.
Things You'll Need
Crush the fruit in the stockpot using a potato masher or spoon; you need 5 cups of crushed fruit for every 6 ounces, or every package, of Sure Jell.
Sprinkle the Sure Jell over the crushed fruit and mix to combine using a spoon or whisk. Add 1/2 teaspoon of butter to the stock pot for every package of Sure Jell used.
Set the pot on the stove and set the heat to high. Bring the fruit to a boil, stirring constantly.
Add the sugar to the fruit when it starts to boil. You need 7 cups of sugar for every package of regular Sure Jell, and 4 cups of sugar for every package of reduced-sugar Sure Jell.
Stir and boil the ingredients again for one minute. Remove the stockpot from the heat and skim off any foam from the top of the fruit.
Pour the fruit into jars. Let the fruit cool for a few minutes before sealing the jars.