Things You'll Need
Cardboard

PVA glue

Large cutting board

Scissors

Box cutter

Pencil

Scrap paper

Masking tape

Ruler with straight-edge

Work gloves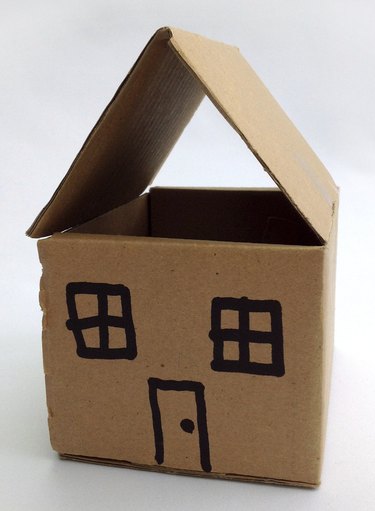 Crafting a playhouse with the kids or creating an accurate model of a home -- you can make buildings easily and inexpensively with cardboard. The final result of your efforts depends on the complexity of your design and the amount of time put into it.
Step 1
Sketch a quick model of your building on scrap paper. Try to create multiple sketches of the building from different sides. This gives a more complete plan of your project. Determine how many pieces you will need for the building. Mark down lengths and widths for the sides of each piece -- so you don't forget later!
Step 2
Use the ruler and pencil to trace the templates for each piece on cardboard. Try to create as few pieces as possible to reduce the complexity of your project. Decide if you want to cut out doors and windows. Mark these on the templates.
Step 3
Cut out your cardboard pieces. Use the scissors to cut out smaller pieces in one smooth slice. For larger pieces, or pieces with complicated shapes, use the box cutter. Score the template with a straight-edge as a guide, and then go over the scored line repeatedly until you cut through the cardboard.
Step 4
Create corners with cardboard by scoring it along one side. Do not cut through the cardboard. Instead, bend the cardboard along the score line to create the corner. You can also create round walls and turrets this way. Create several vertical score lines approximately 1/2 inch apart on the piece. Curve the scored piece around a cylinder, such as a plastic tube, soda can or tin food can.
Step 5
Start with the base of your building and work up when gluing together. Also, start from the outside walls first, and then build the interior walls. Apply a thin layer of PVA glue to one edge of a cardboard piece. Press the edge against the side of another cardboard piece. Hold it in place until it sets -- usually a few minutes. If the piece doesn't set quickly enough, a well-placed piece of tape holds the cardboard together while it dries overnight.
Step 6
Glue the roof of the building in place, or make the roof removable by leaving it unglued. You may want to cut four diagonal slits in the tops of the outside walls to hold the removable roof in place. Add any decorations you desire to your completed cardboard building.
Tip
Glue the building onto a cardboard base to make it more stable. Make the base large enough to add landscaping if you want.
Build up a contoured landscape around the building by gluing together horizontal layers of cardboard, each slightly smaller in area than the piece below it.
Warning
Do not attempt to slice completely through the cardboard in one cut. Score the cardboard repeatedly to cut through it.