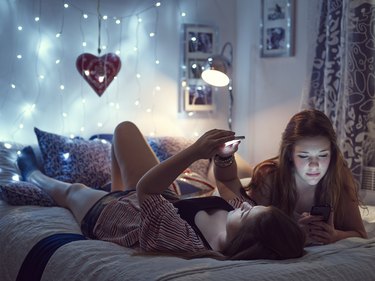 String lights are available in a number of different sizes and colors, making them an excellent option for decorating your home. Hanging string lights indoors can add ambiance to your everyday decor or can add some extra flair to your holiday decorations or special events. The best way to hang string lights indoors depends on the material from which your wall is made and the weight of the lights you select.
Gather Lights and Hanging Tools
Select the string lights that work best for your decor. You can get the more traditional string lights that are commonly used on a Christmas tree or fairy lights that have smaller bulbs. You can also get strings of lights with larger bulbs. Fairy lights tend to be the lightest, which is an important consideration, especially if you are trying to figure out how to hang string lights indoors without nails. In addition to the size, appearance and amount of light the bulbs give off, there are also some other factors to consider.
Make sure the string of lights is long enough. You can connect multiple strings, but it can be difficult to disguise the plugs in the middle if the strings only reach halfway across the room. Opt for LED bulbs when hanging string lights indoors. While the initial investment is higher, they will last longer, and they are safer because the bulbs don't get as hot as incandescent bulbs.
Before you can hang string lights, make sure that all of the bulbs are working and replace any that have burned out. New strings should be in good shape, but if you are using a string you got out of storage, make sure the wires are in good shape and not frayed. Get a step ladder so that you can safely reach the wall or ceiling to hang the lights as well as the tools and materials you need for hanging rope lights indoors.
Hanging String Lights Indoors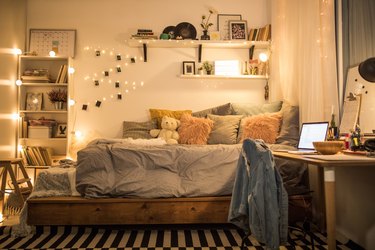 The best way to hang string lights indoors depends on the type of surface from which you are hanging the lights. One secure option that works for most walls is to use a hammer and nails. Leave a part of the nail protruding from the wall and drape the string lights over the nail. If you are hanging fairy lights, a thumbtack should be enough to support the weight of the lights. If you are hanging lights across the ceiling, you can get small hooks to hang string lights indoors.
If you are renting or if the lights are temporary and you don't want to be left with holes in your wall, you can use a damage-free hanging hook such as Command strips. These come in a variety of sizes, so check the label to make sure they will support the weight of the lights you are using. Follow the package instructions to apply the strips to the wall and remove them when you are finished.
These options don't work on all materials, such as brick. Consider using hot glue to secure the lights, as it can usually be peeled off when you are ready to take the lights down.
String Light Decorating Ideas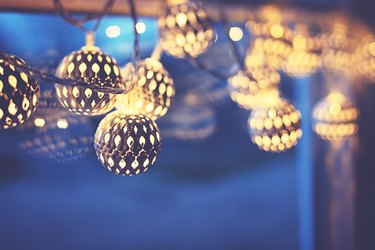 Make sure to plan your decor before you start putting in nails and hooks. This ensures you have the correct amount of lights and that minimal damage is done to the walls. You can use lights to highlight a wall of photos or artwork or hang them around the doorway or a window.
String lights on the ceiling can make a cozy alternative way to light a dining table. They can also add subtle lighting when you hang them over a canopy bed. Another idea is to drape them on a dark-colored or brick wall to brighten that part of the room.