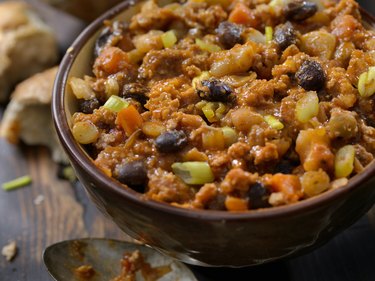 So you added too much water to chili, and now you think it's a lost cause. Before you toss the chili, try some quick fixes to thicken the contents of your chili pot. Whether you added too much beer in chili, went crazy with the tomato juice or otherwise thinned it too much, a little extra cooking time and a few smart additions can correct the issue and get your dinner plans back on track.
Thicken Chili With More Cooking Time
One of the easiest ways to fix runny chili is to do nothing. Just let it keep simmering or give it more time in the slow cooker to help thicken the chili.
A gentle simmer helps some of the liquid to evaporate from the soup. Leave the lid off to let the steam out and get rid of moisture faster. Stir the chili occasionally while you let it simmer. The extra cooking time gives all the flavors of your chili more time to mingle too.
Mash Some Beans
Adding anything extra to your chili can throw off your recipe. Instead, use the ingredients you already have in the pot to thicken the soup. Blending beans and other ingredients is an easy way to do that.
One option is to put a potato masher or immersion blender directly in the pot to randomly mash up some of the ingredients. Just be careful not to blend and mash too much, or you'll end up with a chili smoothie with no discernible chunks. Stir it well to distribute the mashed components.
Another option is to scoop out a cup or two of your chili. Mash it up in a food processor or blender. Add the chili puree back into the pot and stir it around to thicken the soup.
Add More Ingredients
When you add too much liquid to your chili, counteract that watery texture by adding more of the other ingredients from your favorite chili recipe. Put in more beans, meat or thick tomato paste for a boost of flavor and thickness. Even more chili powder and other dry seasonings can help soak up some of the moisture.
When adding more ingredients, think about the ratios. If you add lots of extra beans, you may have a hard time spotting the meat. Those extra ingredients also thin out your spices, which may leave the chili tasting bland. When possible, add a little more of everything to keep the balance.
Stir in Cornmeal or Masa
Love a side of cornbread with your chili? Add the same flavor to your chili to help thicken it with masa harina, a corn flour, or cornmeal. Adding masa to chili makes it rich and thicker. The corn flavor complements chili well, but keep in mind that it may change the flavor and texture you're used to with your chili.
You can also add arrowroot or white flour in a similar way. Mix a teaspoon of arrowroot with a teaspoon of water or 2 tablespoons of flour to 1/4 cup of water. Stir the mixture into the chili.
Arrowroot doesn't add any flavor to the chili, and it doesn't dilute the flavors of your chili. Be careful not to add too much, as it's very good at thickening soups. Adding too much flour can weaken the flavors of your chili.
Mix in Tortillas or Tortilla Chips
Another creative mix-in to thicken chili is either soft tortillas or tortilla chips. Both of these ingredients help soak up the extra moisture. The flavors mix well with chili, but keep in mind that it may taste different and have a different texture than your normal recipe.
If you're using tortillas, tear them up into small pieces and stir them into the chili. For tortilla chips or corn chips, crush them to help them blend into the chili. Stir the add-ins into the chili and let it simmer for 10 to 20 minutes to give the pieces time to break down and integrate with the other flavors.