Things You'll Need
Can of nacho cheese sauce

10-15 packets of Taco Bell Fire Sauce or a bottle of Taco Bell Home Originals Hot Sauce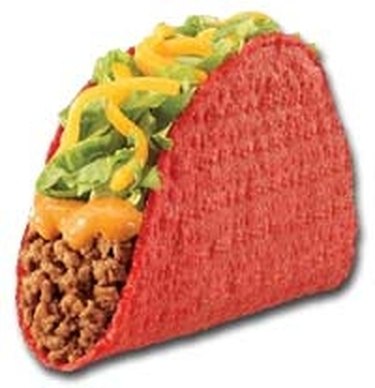 Taco Bell's insanely addictive Lava Sauce (found in the volcano menu items) is growing tremendously in popularity. Yet there seems to be a lack of replica recipes for lava sauce available online, unless you feel like paying for one. Through some kitchen experimentation I have found a way to make a pretty darn close substitute for lava sauce at home. Best of all? You don't have to be a cook, this is as simple as it gets. Make homemade volcano tacos for your family and friends tonight.
Step 1
Open the can of nacho cheese and empty it into a small-medium sized sauce pan.
Step 2
Add the 10-15 packets of Taco Bell Fire Sauce to the cheese. If there is none available to you, Taco Bell makes hot sauce that you can buy at your local supermarket. It works just as well but lacks some of the heat of fire sauce. You may want to add some cayenne pepper to make up for that. I personally like my lava sauce as hot as I can get it!
Step 3
Stir well until everything is blended and a nice burnt orange color is achieved. If it's too light, add more sauce. If it's too dark, it's going to be a bit hotter than the original, so you may want to add more nacho cheese.
Step 4
Cover and simmer the lava sauce over low heat, stirring occasionally for about 10 minutes.
Step 5
Serve over your favorite foods! You can add your sauce to one of Taco Bell's delicious volcano tacos or burritos, or add it to your own Taco Bell replica recipe. I recommend buying the Taco Bell Home Originals hard taco kit and pouring the sauce over the tacos. It's almost like having a 24 hour Taco Bell open in your kitchen.