It's time to fire up the grill and throw some shrimp on the barbie! This grilled shrimp is the perfect addition to your upcoming summertime barbecues and family dinners. The lightly charred, smokey flavor from the grill provides the perfect contrast to the garlic, basil and lemon-marinaded shrimp. And with minimal prep and cook time, this grilled shrimp recipe is almost too good to be true.
Things You'll Need
1 1/2 pounds raw, peeled shrimp (16–20 count shrimp per pound)

1/2 cup Roma tomato, finely diced (about 1 Roma tomato)

1/2 cup red onion, finely diced

1 tablespoon garlic, minced

1/4 cup packed basil, chiffonade, plus additional for garnish

1 tablespoons lemon juice (about 1 lemon)

3/4 cup olive oil

1–1 1/2 teaspoons crushed red pepper flakes

1 teaspoon salt

1/2 teaspoon ground black pepper

Metal skewers

Grill or indoor grill pan
Step 1: Chop the Vegetables and Create a Marinade
Dice the tomatoes, red onion and garlic, and then slice the basil. In a small bowl, gently mix together the olive oil, lemon juice, diced tomatoes, onion, garlic, basil, crushed red pepper, salt and pepper.
Step 2: Devein and Marinate the Shrimp
If not done already, devein — or remove the shrimp's dark dorsal vein — by using a small, sharp knife to cut down the back of each shrimp. Pull the vein out, then wash the shrimp under cold water. Next, place the shrimp in the bowl with the marinade and make sure that all shrimp are coated. Place the bowl in the refrigerator and let the shrimp marinate for 30 to 45 minutes.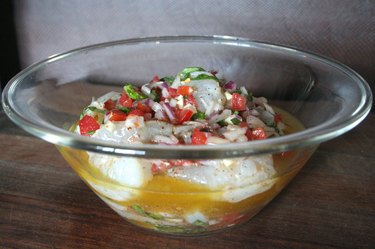 Step 3: Skewer the Shrimp
Remove the bowl from the refrigerator. Using metal skewers, skewer the shrimp one by one. Lay the filled skewers flat on top of a cookie sheet. Once all of the shrimp are skewered, take the sticks and marinade to the grill.
Step 4: Grill the Shrimp
Heat the grill to medium-high heat, then place the skewered shrimp on the grates. Cook the shrimp over the direct heat for approximately 5 to 8 minutes, turning the shrimp halfway through the process. As the shrimp cook, lightly brush the marinade on both sides. Once cooked through, remove the shrimp from the grill.
Tip
The outside of the shrimp should be pink and slightly charred when cooked, while the inside of the shrimp should be white and opaque.
Step 5: Serve the Shrimp
Remove the shrimp from the skewers, then arrange on a serving plate or platter. Garnish the shrimp with basil chiffonade and a lemon wedge.