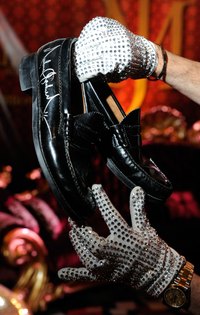 Michael Jackson was a pop music idol from the United States whose career began at childhood and continued until his death. As Michael Jackson grew up his individual music career took off; his popularity expanded around the world. Michael Jackson gained international fame during the 1980s, and his clothing was inspired by the fashion of the time; he added new twists to fashion by adding sequins and wearing only one glove. Michael Jackson's fashion and costumes are iconic and easily recognizable.
Things You'll Need
Red jacket
Black skinny pants
White socks
Black loafers
Black fedora
White Gloves
Silver Sequins
Hot Glue Gun
Scissors
Black eyeliner
Purchase a red or black jacket that falls to your hips; a faux leather jacket with a zipper is appropriate. Buy black, straight-cut slacks, white socks, white gloves and black loafers to complete your costume. Find these items at thrift stores and vintage clothing stores if possible.
Glue sequins to your left white glove using the glue gun to mimic Michael Jackson's sequined glove. Place folded newspaper into the glove while gluing sequins to it to prevent the glove from gluing itself closed. Discard the other glove; Michael Jackson wore only one in his iconic costumes.
Cut the bottom three to four inches off of the legs of your pants. Many of Michael Jackson's famous looks include short pants.
Pull the socks up all the way when you wear your costume. Wear the jacket over the shirt and wear your fedora tipped to the side.
Apply black eyeliner for a finished look.