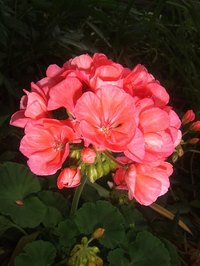 Geraniums are fast-growing plants with fragrant flowers that do well in containers and in the garden. They're hardy and resistant to most pests. Newer cultivars have sturdy blooms that aren't easily damaged. The plants tend to develop long stems with few leaves or buds if they're not pruned regularly. Aggressive pruning will not kill geraniums; they need to be cut back more than once each growing season.
Pinch off dead stems, leaves and buds throughout the growing season.
Thin out hardy geraniums that bloom aggressively all summer. Remove up to two-thirds of the vines during the growing season or they will crowd out other flowers and plants in the garden.
Cut back geraniums to within 4 or 5 inches of the ground after the first bloom of the season--they should bloom again. Cut them back a second time for a third blooming.
Prune the stems of geraniums within 2 inches of the ground when the blooming season is over.
In the spring, severely cut back geraniums that are grown indoors in containers. If the plant blooms during the winter, pinch off the blossoms after they've died.