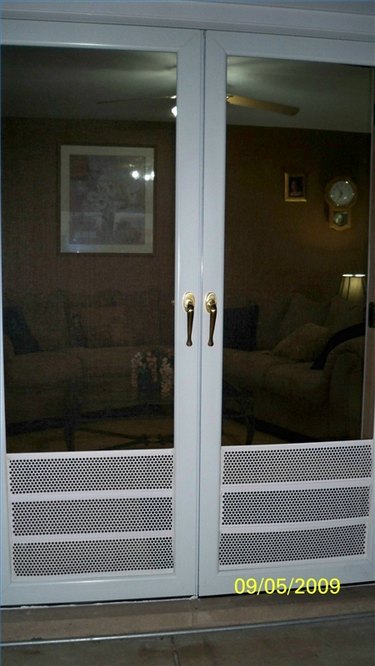 Purchase from any Home Depot or Menards Sweers Quik-Snap gutter screens. Serves the perpose, looks great and easy to install
Step 1
Purchase from Home Depot or Menards Sweers Quik-Snap Gutter Screens, the best for this project, they come in many sizes, they are easy to cut and our thin enough on the edges to slide right onto your screen door.
Step 2
Each piece should be measured to the width of your door. Cut to size, and slide the edges onto your door. Each piece attached at the top to the next, in the picture we used three seperate pieces, each piece only cost 97 cents. What a steal and what a relife to know the dog can no longer rip our screen.
Step 3
We purchase ours in white because our doors were white, they also come in a brown. We purchased a roll of white tape and secured the edges just in case they came loose with all the dogs jumping on them. They even pertected the screen when my grandson leaned on it. Normally he would make it buckle in, but this material although light, is a nice quality heavy plastic, which I think will last a long time. At 97 cents each we purchased quite a few extra for replacements incase we needed it.