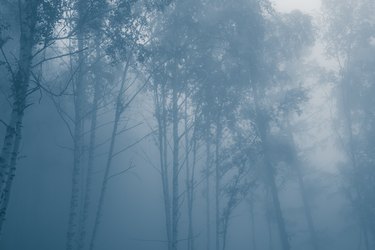 A whole lot of fog can create amazing Halloween ambience, and to do it right, you need a fog machine and fog machine liquid. Imagine how incredible your house or yard will look with a creepy, mysterious layer of low-lying fog on Halloween. You don't have to fork over a bunch of money to rent or buy an expensive fog machine to get this effect.
It's cheap and easy to make a DIY fog machine. All you need are a few household ingredients and a small bottle of sorbitol-free glycerin (you can get glycerin online or from a pharmacy). To make your own fog juice, mix one part glycerin with three parts distilled water and set it aside. If you want to add a scent to your fog, you can purchase a solution online and add it according to the manufacturer's instructions. Next, take an empty 2-liter soda bottle, cut off the top and tape the narrow part to a small aluminum pie plate.
Your contraption should look like a basic kind of cone. Take a large, empty metal coffee can (without a lid) and poke some holes in the base using a can opener. Get a candle that can fit inside and drop it in. Place the fog machine over the top of the can and then light the candle. Finally, add some of your fog juice into the machine. You only need a teaspoon to fill an average-size room. If you want your fog to have a scent, you can find additive products that create different smells to enhance the experience.
Glycerin-Free Fog Machine
If you don't want to use glycerin in your fog machine, you can make your own homemade fog machine using a coffee can and a 2 1/2-inch square computer fan. First, place the fan on top of the coffee can's lid and trace around it with a magic marker. Use a utility knife to cut out a square. Try not to go over the perimeter of the square that you drew. Next, apply epoxy around the edge of the square hole and attach the fan. Clip on a 9-volt battery for the perfect airflow.
Get a section of hose (a pool hose is good for this) that has a nozzle on one end. Put the nozzle onto one side of the can toward the top and trace the outline of the nozzle. Use shears to cut out a hole and file off the sharp edges with a drill bit. Fit in the hose nozzle and trim the hose down to 1 foot in length.
For a glycerin-free fog machine, the juice needs to be made from dry ice instead of glycerin. Always be sure to wear protective gloves when handling this kind of ice. Break off a sizeable chunk and put it aside. Then, boil a cup of water and pour it into the top of the coffee can.
Add the dry ice, close the lid and turn on the fan. The fog will start pouring out of the hose. You will have to replenish the fog juice to keep the machine going, so remember to check on it from time to time. Keep in mind that fog made from dry ice doesn't carry a scent well at all, so if you want scented fog, it's best to go with fog juice made from glycerine.