Things You'll Need
Popsicle sticks

Craft glue

Binder clips

Paper (optional)

Pencil (optional)

Ruler (optional)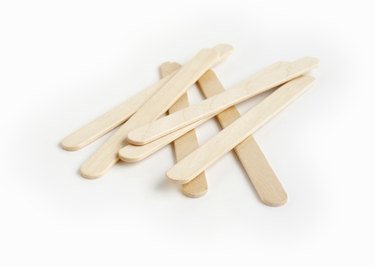 Building a bridge out of Popsicle sticks is a great way to learn engineering and architectural principals. While there are many types of bridge designs to choose from, a truss bridge is a good one to begin with. Truss bridges – bridges that are a combination of triangles – combine strengthening techniques such as laminating and bracing. Popsicle sticks are glued together to make strong cords, braces are added, and finally the deck of the bridge is laid in place. Plain white craft glue, Popsicle sticks and binder clips are the only supplies needed for this type of bridge.
Step 1
Create the top and bottom cords for the bridge by laminating Popsicle sticks. Spread glue on the flat side of one Popsicle stick. Place a second stick halfway down the Popsicle stick, and another Popsicle stick on the other half. Use a binder clip to clamp the sticks in place while the glue dries. Continue gluing the Popsicle sticks in this pattern until they reach the desired length of the bridge. Be sure the cord is completely straight and even as the glue dries – curves or wobbles will reduce the bridge strength. Repeat until there are four cords, two top cords and two bottom cords. Allow the glue to dry completely.
Step 2
Remove the binder clip clamps from the cords. Place one top cord and one bottom cord flat on a work surface. Lay the cross braces in place with one end on the bottom cord and one end on the top cord at an angle. The braces will meet each other on the cords, and two braces and the cord will form an equilateral triangle. Once the braces are in position, evenly glue them in place and secure them with binder clips. Allow the glue to dry completely and remove the binder clips. There will be two completed trusses.
Step 3
Place the two trusses upright on the table. Clamp a Popsicle stick on the ends of each cord, top and bottom, to hold the trusses in place. Glue deck beams between the two trusses 2 inches apart, with the end of the stick resting on the top of the bottom cord. Allow the glue to dry completely. For a wider deck, laminate Popsicle sticks using the same technique as the cord. The laminated sticks can be trimmed as needed to reach the desired length.
Step 4
Glue Popsicle sticks to the deck beams to create the deck of the bridge. Allow the glue to dry completely. Remove the Popsicle sticks used to hold the trusses stable. Trim the cords, if needed, to make them even with the bridge. Glue a brace at the top of the bridge at both ends.
Tip
Draw out the bridge on paper to check the spacing of the braces and deck beams or to make changes to the design of the bridge.