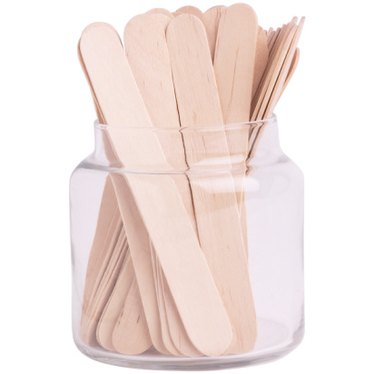 Popsicle sticks, also known as craft sticks, can be used in a variety of games and arts and crafts projects. Many grocery stores and most craft supply stores stock bags of these versatile wooden sticks. They come in various sizes and colors. With several packages of sticks, a touch of creativity plus a few other supplies you will have everything you need for craft activities that you can do with your children. Listed below are a few ideas to get you started.
Tower-Building Game
Divide players into teams of three or four kids and give each team some craft sticks. Set a timer for 10 minutes and instruct the team members to work together to build the tallest tower they can using only the Popsicle sticks. After 10 minutes, the team with the highest tower wins. If a team's tower falls, team members can start rebuilding, and continue until the timer goes off. As a variation on this game, players can compete individually.
Picture Frame
Paint two Popsicle sticks red and two green to make a peppermint picture frame. Glue the four sticks together to form a square. Tape a picture to the backs of the sticks so that you can see the picture from the front. Glue peppermints around the outside of the picture frame for added decoration. To make a Valentine's frame, paint the sticks with pastel-colored paint and glue candy conversation hearts around the frame.
Bridge-Building Game
Create a team-building game by dividing players into teams of four or five. Give each team some Popsicle sticks, a shoebox, a roll of tape and 10 sheets of construction paper. Set a timer for 30 minutes and instruct the teams to build a bridge across the shoebox. After 30 minutes, add small weights to each bridge. The team whose bridge holds the most weight wins. For added fun, award prizes to the teams with the most creative, funniest and/or best-looking bridges.
Pencil Holder
Take an empty toilet paper roll and place it on top of a piece of cardboard. Draw a circle around the end of the tube and cut it out. Glue the piece of cardboard to one end of the toilet paper roll. Paint Popsicle sticks with red, white and blue paint and allow them time to dry. Apply a thin layer of glue on the toilet paper roll and lay Popsicle sticks side by side on the roll, alternating colors. Be sure that the cardboard end is facing down. Put a couple of rubber bands around the toilet paper roll to help the sticks stay in place while the glue dries. For added decoration, attach some white foam stars for a patriotic look. For a Christmas-themed pencil holder, paint the sticks red and green.