Things You'll Need
50 Popsicle sticks

Hot glue gun

Package of glue sticks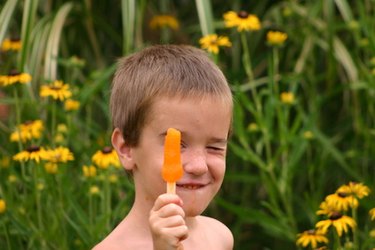 Popsicle sticks have long been a popular craft medium. Very elaborate bridges, buildings and other crafts have been constructed using hundreds and sometimes thousands of Popsicle sticks. This work, however, takes hours and hours of concentration and careful placement. You can take a minimalist approach by building a simple tower out of 50 Popsicle sticks. This project is simple and takes less than an hour to make.
Step 1
Separate the Popsicle sticks into 12 groups of four and one group of two (the last two sticks will go on the top of the tower).
Step 2
Take one of the groups of four sticks and glue them together to form a square. Lay two sticks down flat and parallel to each other, then glue the other two sticks on top of the first two forming a square frame.
Step 3
Glue another set of four sticks to the square base. One stick should be glued vertically to each of the four corners of the square shape. Take another set of four sticks and glue them to the top of the vertical sticks. This third set of sticks should be glued horizontally across the top of the vertical sticks, forming a square at the top.
Step 4
Repeat the previous step with the remaining sets of Popsicle sticks, alternating vertical and horizontal placement of sticks. Glue the last two sticks to the top of the tower in whatever manner you desire.
Tip
There are many ways to arrange 50 sticks into a tower. Try to find a creative way to make another tower using your own directions and design.