Things You'll Need
Brown sweat shirt and pants

Brown gloves

Brown shoes and/or socks

1/2 yard tan fabric

1 piece brown felt

1 yard brown faux fur

Headband

Pantyhose

Hot glue

Craft wire or wire coat hanger

Fiber fill

Sewing machine

Needle and thread

Scissors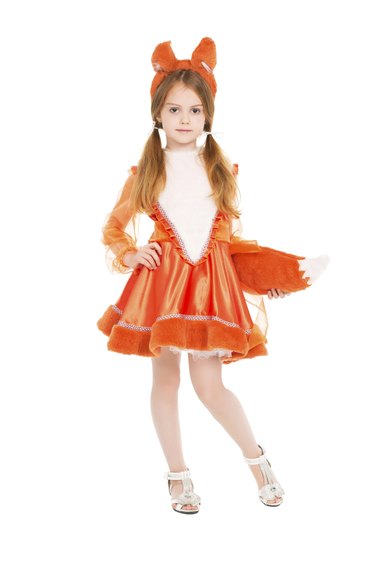 If you are looking for a creative and uncommon costume for Halloween trick-or-treating or any other costume based event, your inspiration can be lurking in something as simple as an oak tree near you. Running through your parks, climbing in your foliage, and stealing all your acorns are bright eyed, bushy tailed creatures known as squirrels. Making a squirrel costume can be as simple or as detailed as you desire and it requires very little sewing ability.
Forming the Base of your Squirrel Costume
Step 1
Wear a brown sweatshirt and sweatpants. If you like, you could also wear matching brown gloves and brown shoes. If you do not have brown shoes, consider pulling a pair of brown socks over a different colored pair of shoes.
Step 2
Cut a large oval out of your tan fabric. The oval should cover your chest and stomach, so measure your torso and cut your oval according to your size.
Step 3
Stitch this oval onto the front of your brown sweat shirt. If you do not have a sewing machine, you can simply sew around the edges by hand or attach with fabric glue.
Making your Tail and Ears
Step 1
Cut the leg off a pair of old pantyhose. Then insert a piece of wire the length of the tail into the pantyhose.
Step 2
Fill the leg with fiber fill used for stuffing toys. Stuff tightly so your tail looks full and bushy. Bend to make your tail curve upright. Then seal it shut with a needle and thread.
Step 3
Attach your pieces of faux fur around the outside of your tail. You can choose to sew on your pieces of faux fur, or attach them with hot glue. Sew the tail onto the back of the brown sweatpants.
Step 4
Cover a headband with strips of matching brown faux fur. Hold it in place with hot glue or sew it in place with needle and thread.
Step 5
Draw two half moon shapes on a piece of brown felt and then cut them out. Sew them onto the brown faux fur of the headband to create ears. One should go on the left side and one on the right, each sitting about halfway between the top of the wearer's ear and the center of the headband.
Tip
Use black makeup or face paint to create a nose and whiskers.
Carry a bag of acorns, or become a flying squirrel by adding a cape.
Get truly original by incorporating fun and unexpected accessories like sunglasses, roller skates or sports jerseys.