Things You'll Need
Lining fabric

Baby clothes

Sewing needle

Thread

Double-fold bias binding tape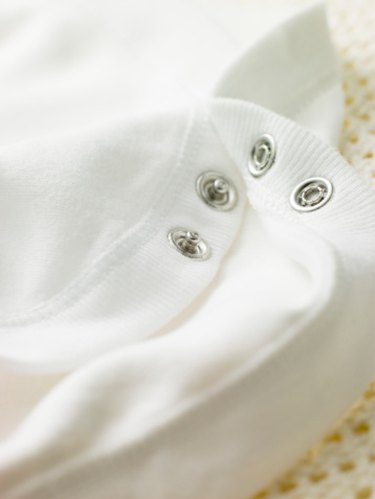 You can make a patchwork quilt from your child's baby clothes to pass down to her when she gets older or make the quilt for her first baby shower for a sentimental keepsake gift for your new grandchild. The quilt is easy to make and you can customize each quilting square with the size and shape of the items you would like to add. You can include pieces from baby bibs, dresses, bonnets, onesies and sleepers for a quilt that includes a little bit of her entire first year.
Step 1
Trace a 36-inch by 48-inch rectangle onto a piece of fabric for the quilt's lining. Cut out the rectangle.
Step 2
Lay the baby clothes out in front of you. Cut patches and strips from the baby clothes and assemble them into the quilting squares. Cut the patches and strips so that, when assembled, they make a 12-inch square. For example, cut nine 4-inch squares from the baby clothes to make one 12-inch square. Next, cut six 12-inch by 2 inch strips to make the next square.
Step 3
Continue cutting baby clothes into shapes that together equal 12-inch squares. Cut enough strips and squares to make 12 squares for a 36-inch by 48-inch quilt.
Step 4
Lay the squares and strips for one 12-inch square side by side and sew the pieces together with a whipstitch. Repeat with the remaining strips.
Step 5
Arrange the 12-inch squares into a rectangular shape for the quilt. Lay the squares three across and four squares down. Sew the adjoining squares together to assemble the quilt.
Step 6
Place the quilt on top of the lining fabric with the good sides facing outward and sew around the four edges to attach the two layers.
Step 7
Bind the quilt. Cut two pieces of binding tape that measure 48 inches long and two that measure 36 inches long. Slide the two layers of the tape over the top and bottom of one side of the quilt and pin it to the quilt. Repeat with the remaining quilt sides and then sew the tape to the quilt.