Things You'll Need
Furniture

Clean rags

Water

Bucket

Screwdriver

Fine to medium grit sandpaper

Black paint

Roller frame

Sprayer

Paint grid

Metallic paint

Polyurethane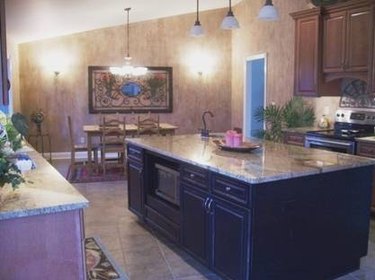 Painting furniture black can easily be completed at home, and the finished product has a classic, timeless look. Adding a rubbed finish gives a professional appearance to a piece of furniture, and the finish can be applied using a variety of metallic tones from bronze to copper. The completed piece can easily match any existing black furniture. Transform an old piece of furniture into something new using black paint.
Step 1
Clean the piece of furniture with a damp rag and water. Remove all dust and grime that has accumulated in any crevices and corners. Take off all hardware pieces such as drawer pulls and knobs. Set aside drawers and doors.
Step 2
Sand the furniture with a fine to medium grit sandpaper. Sanding will allow the base paint to grip and bond to the furniture. Wipe away dust with a damp rag.
Step 3
Apply black latex paint with a brush or roller. Spraying the paint on also works. Several coats of paint may be needed to achieve a solid base coat. Dry at least four hours between coats of paint.
Step 4
Rub edges and crevices of furniture with sandpaper, allowing the natural wood to show through. Other areas can also be sanded to give a distressed rubbed look.
Step 5
Add metallic paint. Lightly dip a rag into the paint and rub along the edges and crevices of the furniture. Metallic paint dries faster than latex paint due to the additional metallic mica flake and will be dry to touch within two hours. Very little paint is needed for a hand-rubbed look.
Step 6
Protect the furniture by applying a clear polyurethane sealer to the finished piece. Apply the sealer to all horizontal surfaces or the entire piece. Use a brush, roller or spray on the pieces. Allow polyurethane to dry at least 24 hours before reattaching hardware to the furniture. Reattach drawers and doors when fully dry.