Things You'll Need
String

Tape

Scissors

Kraft paper

Pencil

Fabric

Quilt batting

Wide bias ribbon

Sewing machine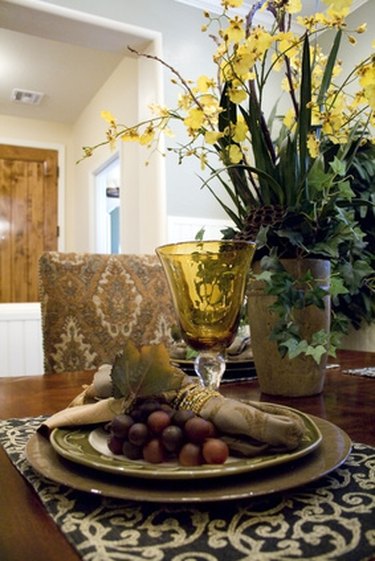 Round tables are conversation friendly, making them a popular choice for kitchens, dining rooms and as outdoor patio furniture. Although it tends to be easy to find round tablecloths, it is often more challenging to find place mats designed to fit the round shape and in colors or designs that you like. The best fitting place mats for round tables are curved wedges, sometimes called fans. The place mats are easy to make.
Step 1
Cut string 4 feet long and tape one end of it at the center point of your table.
Step 2
Cut a piece of Kraft paper 16 by 20 inches. (This is a large butcher-type paper typically found and sold off a roll.) Fold the paper in half at 10 inches and crease. Unfold. Place the paper on your table so that the center crease aligns with your string and the center crease area of the paper is even with the edge of the table. Tape your paper down. The two lower corners will hang over the edge of the table because of the curve.
Step 3
Follow the curve of the table and draw a line along the outer edge of your paper. Measure 8 inches from the crease at the top of your paper to the left and place a mark. Label this A. Measure 8 inches to the right of the crease and label it B. Pick up your string and hold your pencil against the string at A. Draw the curve from A to B.
Step 4
Draw a straight line from A to the bottom left corner of your paper. Draw a straight line from B to the bottom right corner of your paper. You now have a custom curved wedge that exactly matches your table. Use scissors to cut out your wedge.
Step 5
Place your pattern over two pieces of fabric and quilt batting. Pin and cut. Place one piece of fabric face side down, place your quilt batting on top, and finish with one piece of fabric face side up. Quilt your fabrics and batting together. To quilt, sew a series of regularly spaced lines or shapes to hold your fabrics together. You can use any shape or pattern to quilt.
Step 6
Unroll the bias tape and insert the quilted fabric between the folds of the tape. Start at a bottom corner. Hem the tape to the fabric and fold the corners to fit. Trim off your excess tape, tuck the end under and finish your hem.
Tip
Because placemats are two-sided, each one can produce two looks.