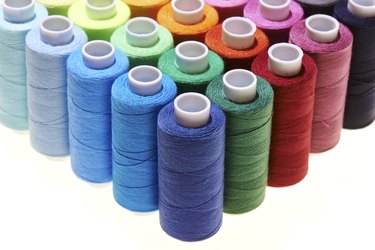 Machine embroidery offers the crafter artistic freedom and control on multiple levels. Size, position, pattern and color are available on virtually every machine, and with study and the right software, you can even create your own embroidery designs. For those of us who do not or cannot devote great time and money to embroidery design, however, the Internet provides access to millions of free and reasonably priced designs.
Step 1
Locate an embroidery design on the Internet. Type keywords such as "machine embroidery," "designs," "files" and/or "downloads" into your favorite search engine. The file extension for your specific machine can be helpful if you choose not to convert formats. Look for files with these extensions: SEW, PES, DST, HUS and JEF. Search by machine brand names like Brother, Singer and Janome. If you are looking for a specific design or image, use specific keywords that apply. Do several searches until you find the best pattern.
Step 2
Determine if the pattern you want is a free download or not. Most websites with embroidery designs available for purchase use a shopping cart, although some free files are offered through such a system as well. Many free files are only accessible when you sign up for a newsletter or create an account with the site. Search for those designs with the quickest and easiest access. Select the design you want and add it to your shopping cart.
Step 3
Purchase and/or access your embroidery design. If you have one or more items in your shopping cart, proceed to check out and read the website's download policy. Some sites direct you to a specific download page after purchase. Others will send you an email that has a link to a download page or the files attached to the email. For free downloads that do not require a shopping cart, you can usually click or right click the link provided and save the file. If a link is available for your file extension, use it. If not, the downloaded file may be compressed with a ZIP extension. These compressed files usually contain multiple file formats.
Step 4
Download and save the file to your computer. The location/path is completely your preference. Save it somewhere easily accessible.
Step 5
Open and use your file. If the downloaded embroidery design is already in your format, then it is ready for use. If the downloaded file is compressed/zipped, extract the files and find your file format. Most computers sold after 2000 include compression software. Right click the zipped file and select "Extract All."
Tip
"Free" is always a great keyword when searching for a design, but be aware that search results may not really be free. Many sites use a free download as an attraction for additional shopping. Make sure the file you want is actually free.
If your computer does not have compression software installed, download free versions of PKUNZIP or WinZip.