Take celebrations to the next level with this deliciously edible shot glass that allows you to drink your cake-flavored vodka and eat it, too. So go ahead, give this shot a shot. You won't regret it.
Things You'll Need
Shot glass


2-part molding putty

Small, flat-edged paint brush


Paring knife

Small bowl

1 cup chocolate chips (I used dark chocolate, but choose whatever type of chocolate you prefer)


Microwave


Chopped pistachios or other garnish


Whipped cream, if desired
Step 1: Combine Molding Putty
Combine equal parts molding putty with your hands.
Step 2: Mold Around Glass
Working quickly, wrap outside of your favorite shot glass starting at the bottom working towards the rim. Make sure to leave the walls thick enough so no holes appear. Press the bottom flat, and let cure for about 30 minutes. Remove glass after the putty has cured.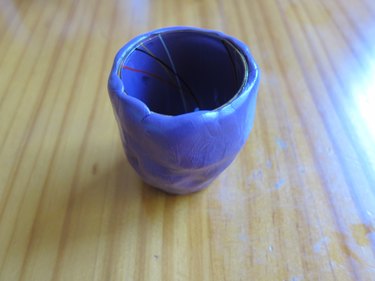 Tip
You can also purchase shot glass molds at specialty stores or online. This is a good alternative to making your own mold if you are making several shot glasses or you aren't particular about the size and shape of your shot glasses.
Step 3: Mold Chocolate
Melt the chocolate in the microwave in 15 second spurts, stirring vigorously between heatings. The chocolate should never get hot and should always feel just warm to the touch. Pour melted chocolate into the mold, swishing around until the whole surface if covered the pouring excess out. Repeat to ensure a thick enough wall.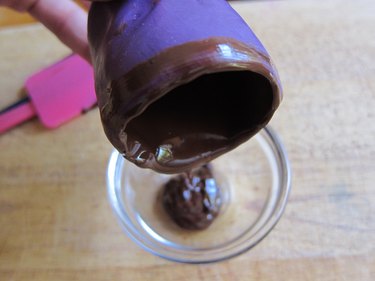 Step 4: Remove the Mold
Put the mold in the freezer for about 10 minutes, then remove. First, gently pull away the putty around the rim. Then, pushing up from the middle bottom of mold, separate the chocolate shot glass from the mold.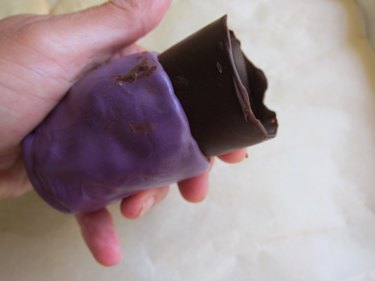 Step 5: Trim Top
If the top lip is jagged, trim it very gently with a paring knife to even it out.
Step 6: Add a Rim
Melt the chocolate of your choice in 15 second spurts in the microwave. I used milk chocolate for contrast but any chocolate will do. Dip the chocolate glass into the melted chocolate very quickly or the chocolate will start to melt your chocolate glass.
Step 7: Dip into Nuts
Chop up a few tablespoons of nuts and dip the rim into the bowl of nuts. Use a brush to sweep nuts up onto the side of the melted chocolate.
Step 8: Add a drink
Add your drink and top with whip cream, chocolate shavings, more nuts, cherries, sprinkles or whatever else sounds good to you. Enjoy!