Things You'll Need
High-quality chocolate

Double boiler or microwave

Lollipop molds

Lollipop sticks

Small cellophane candy bags

Ribbon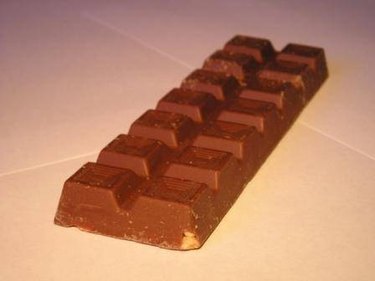 Lollipops are a tasty treat and they become even better when they are made of chocolate. Chocolate lollipops are easy to make and serve as cute gifts or as party favors for your next big celebration. You need just a few simple items to create delicious, creative chocolate on a stick.
Step 1
Choose a high-quality chocolate for melting. This can be chocolate disks found in most party stores, chocolate chips or your favorite chocolate bar.
Step 2
Melt the chocolate in one of two ways. Fill the bottom of a double boiler with water, bring to a boil, then reduce heat and place the top section in place. Place chocolate in the pan and stir until melted. Another option is to put the chocolate in a microwave safe bowl and heat for 1 to 2 minutes at a time, stirring in between, until melted.
Step 3
Place a lollipop stick into each slot within the candy mold.
Step 4
Use a spoon or small measuring cup to transfer the chocolate to the mold. Fill each slot until the stick is covered.
Step 5
Gently tap the mold on the counter top to shake out any air bubbles. Once the chocolate settles, see if the molds are not full. If not, add more chocolate.
Step 6
Place the molds in the freezer on a level rack for about 5 minutes or until lollipops are set. Remove and let them sit on counter a couple minutes. Then, gently pop out the candy.
Step 7
Wrap the lollipops in a cellophane candy baggie and tie at the bottom with a decorative ribbon.
Tip
Consider making a variety of chocolate lollipops such as dark chocolate, milk chocolate and white chocolate. Flavor your chocolate to create different types of lollipops. Try using mint, almond or a berry extract.
Warning
Be sure your mold is clean and completely dry before using. Don't leave your molds in the freezer for an extended period of time. If frozen, they may crack if you bang them on the counter to remove the candy.