Things You'll Need
Milkshake glass

Acrylic paint, white, pink or brown

Paintbrush

Plaster of Paris

Bowl

Stirrer

Plastic gloves

Paper bag

Rubber band

Scissors

Straw

Faux cherry, optional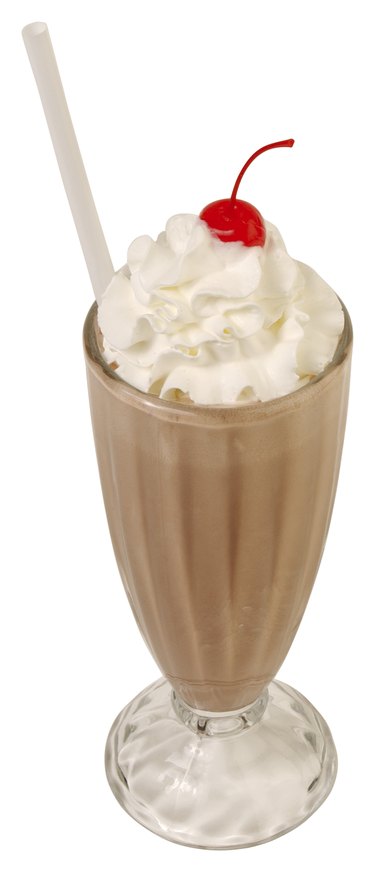 You can create a simple milkshake display with only a few supplies. Fake milkshakes can serve as a great centerpiece for a 1950s-, rock-'n'-roll- or diner-themed party. This easy project doesn't take long to complete other than allowing for drying time, so you can make as many fake milkshakes as you wish.
Step 1
Clean the inside and outside of the milkshake glass and dry it thoroughly.
Step 2
Paint the inside surface of the glass using white paint for vanilla, pink for strawberry or brown for chocolate. Leave approximately 1 1/2 inches at the top of the glass unpainted. Allow the paint to dry.
Step 3
Wear plastic gloves and use a stirrer to mix some plaster of Paris in a bowl with water, according to package directions.
Step 4
Fill the glass with the plaster of Paris up to the unpainted line. Place some of the plaster mixture in a small paper bag. Tie a rubber band around the open end of the bag to close it. Snip off a bottom corner of the bag. Using it like a pastry bag, squeeze the plaster through the hole and form large circular loops on top of the plaster in the glass to resemble a whipped cream topping.
Step 5
Insert a straw in the milkshake glass and allow the plaster of Paris to dry completely. Add a faux cherry on top if desired.