Things You'll Need
Pot of water

Fork

Fruit

Bowl of ice water

Knife

Lemon juice

Sugar

Bowl

Orange juice

Salad bowl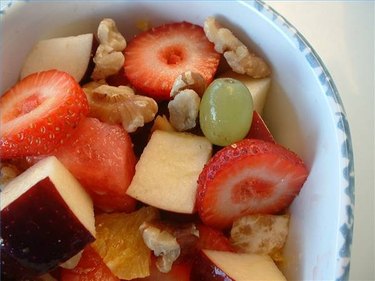 Fruit salad is a popular summertime side dish, and welcomed addition to the picnic pot luck. Unfortunately, the cut-up pieces of fruit can turn brown, making the salad look unappealing. Sliced bananas are especially vulnerable to browning. But there are steps you can take to keep your fruit salad from turning brown.
Step 1
Boil a pot of water. Remove it from the heat after it comes to a boil.
Step 2
Spear with a fork a peach, plum or nectarine that you will be adding to the salad. Submerge it in the hot water for a few seconds, remove it and immediately submerge in ice water.
Step 3
Remove the skins of the fruit and cut it into pieces. Roll it in lemon juice and then in sugar. Add it fruit to the salad.
Step 4
Combine in a bowl four cups of water with three tablespoons of lemon juice.
Step 5
Cut up the apples or pears you will be adding to your fruit salad.
Step 6
Bathe the cut up apples and pears in the water-lemon solution. Do this immediately after cutting. After the pieces are coated, drain off the liquid and add the fruit to the salad.
Step 7
Bathe bananas in orange juice after cutting them up, and add them to the salad immediately before serving. Do not cut up bananas for the salad until you are ready to serve.
Step 8
Toss your fruit salad in orange juice, and disregard the previous steps if you are in a hurry. Drain off the orange juice and return the fruit salad to its serving bowl.
Step 9
Keep the fruit salad cold until you are ready to serve it.