Things You'll Need
3 tbsp. olive oil or butter

1 medium onion chopped

4 cloves garlic chopped

2 whole tomatoes chopped

1 tbsp. curry paste

1/2 to 1 cup water or broth

Choice of fresh vegetables and meat

1 (13.5-oz.) can coconut milk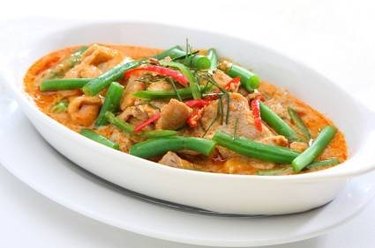 Coconut milk will sweeten, thicken and round out your curry sauce with a full, rich texture. Coconut milk is used liberally in Thai recipes and because of its popularity, can be found in most major supermarkets in the ethnic foods aisle. Coconut milk has a very high fat content, so if this is a concern, look for the brands that offer a low fat product. This quick and easy sauce goes well with most meat and vegetables, or can be poured over rice for added flavor.
Step 1
Heat the olive oil or butter in a skillet.
Step 2
Saute the onions until just beginning to brown. You don't want to caramelize or burn them. Add the garlic to the onions and cook for another minute or so. If the pan starts to get too hot, add a little broth or water instead of more oil. This will help keep your sauce from burning without adding more fat to it.
Step 3
Add in the tomatoes, followed by the curry paste and cook this down for about 5 minutes. Blend the paste well into the sauce, whisking in a few drops of water as needed.
Step 4
Pour in 1 can of coconut milk and let it heat up with the rest of the sauce. Scrape the can down, as the fats tend to collect on the sides and bottom. This is where a good deal of the flavor comes from, so you don't want to miss any of that.
Step 5
Mix in the meat and/or vegetables and heat until all of the ingredients are cooked thoroughly. You may want to add your meat in first, as that will generally take longer to cook than most vegetables.
Tip
Some people like to use the fat of the coconut milk as their base oil. When you open your can of coconut milk, simply skim the thick skin off the top and use that as you would butter or oil. You can saute fresh ginger with the onions, for added flavor.