Steak tacos are a culinary skill to keep in your back pocket. You need a simple week night meal? They're perfect. A casual dinner party idea? They won't let you down. A meal to serve for your buddies who came over to watch the game? These are what you need.
A few simple steps, a little bit of prep, and you have a simple but elegant meal that knocks it out of the park every time. Don't forget the homemade tortillas -- they are easier and more delicious than you could ever hope for.
Things You'll Need
2 lbs skirt or flank steak

1/4 cup orange juice

1/4 cup lime juice

1/2 cup pale ale beer

1 tablespoon soy sauce

2 teaspoon kosher or sea salt

2 teaspoons chili powder


1 tablespoon olive oil


12 homemade corn tortillas

½ cup white onion, chopped

½ cup cilantro, chopped

Hot sauce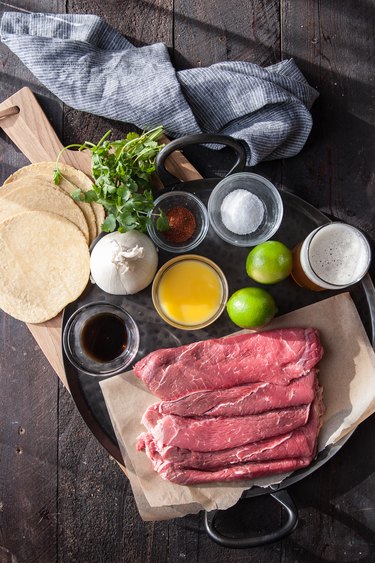 Step 1
Add the flank steak to a shallow bowl or a gallon sized plastic storage bag. Add the orange juice, lime juice, beer, soy sauce, salt, chili powder. Stir to combine. Place in the refrigerator, and marinate for at least two hours and up to twelve.
Step 2
Remove from the marinade and pat dry. Heat the olive oil in a cast iron skillet over medium high heat. Add the steak, cooking until browned, about 2 minutes. Flip and cook until the center of the steak reaches 130 Farhenheit on a cooking thermometer -- about an additional 2 to 3 minutes. Remove from heat and allow to rest for 5 minutes.
Step 3
Slice the steak against the grain into thin strips, or cut into cubes.
Step 4
Add the tortillas, steak, onions, cilantro, and hot sauce to a serving platter. Have your guests assemble tacos to taste.