Does your Taco Tuesday night need an upgrade? Maybe you serve tacos mid-week because they're easy, you're busy, and everyone loves them. With this upgrade, we keep that easy-to-make meets crowd-pleasing aspect, but also add in the fact that you can make this in advance... and the leftovers are even better. (Lunch time taco bowl, anyone?) Maybe this will inspire you to cook a double batch so that you can make Wednesdays "Pulled Chicken Enchilada Night" as well. No one will complain.
Things You'll Need
1 pound boneless, skinless chicken (thighs or breasts)

1 teaspoon salt

1/2 teaspoon pepper

2 teaspoons chili powder

1/2 teaspoon smoked paprika

3 cups chicken broth

Tortillas

Chopped onions

Chopped cilantro
Step 1: Combine the Chicken, Spices and Broth
Add the chicken, salt, pepper, chili powder, smoked paprika and broth to a sauce pan.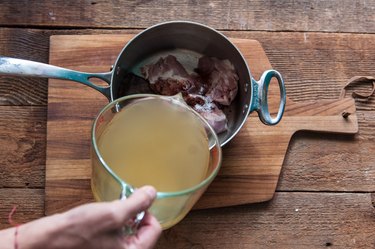 Step 2: Simmer
Bring to a boil over medium high heat, lower to a simmer and cook until the chicken is cooked through, about 8 minutes.
Step 3: Shred
Remove the chicken from the pan and shred using two forks.
Step 4: Soak
Return the shredded chicken to the cooking liquid and allow to soak for at least ten minutes.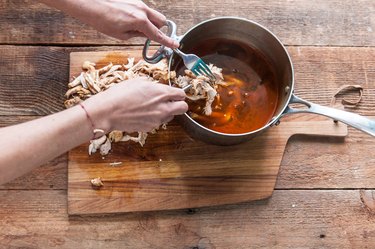 Tip
Making this ahead of time? Leave the chicken in the liquid to ensure it is still moist and flavorful after storing and re-heating.
Step 5: Plate and Serve
Drain off most of the cooking liquid, and transfer the chicken to a bowl. Serve with tortillas, onions, cilantro and any additional topping options.