Things You'll Need
Cookie sheet

Parchment paper

Hard candy, various colors

Resealable bags

Towel

Mallet or hammer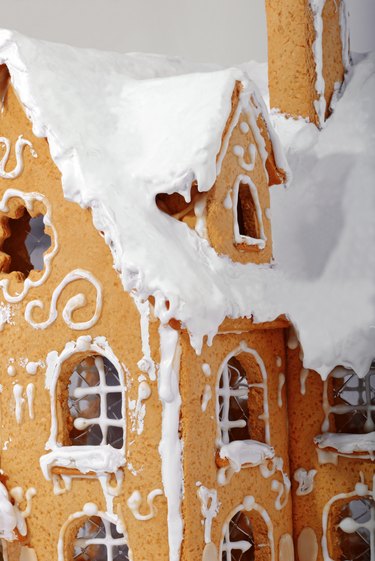 Every year, adults and kids get excited when it's time to make gingerbread houses. These edible houses range from the spectacular to the simple. You can make your next gingerbread house more memorable by adding stained glass windows instead of just icing them in. It's incredibly simple to make stained glass windows and can cost less than a dollar.
Step 1
Preheat the oven at 325 degrees Fahrenheit. Then, line a flat cookie sheet with parchment paper so the melted candy windows won't stick to it.
Step 2
Unwrap each of the hard candies and separate them into zip lock bags by colors. You can either use every color in the pack of hard candy or just use your favorite ones.
Step 3
Close each bag until there's only a little opening left and carefully squeeze the air out of the bag. Once the air is gone, close the bags the rest of the way. (This way the bags won't pop when you start to crush the candy.)
Step 4
Fold the bag of candy into a towel or cloth. Hit the wrapped bag with a mallet or rolling pin to crush the candy. You can either crush it into small chunks or into candy powder.
Step 5
Place the pre-cooked gingerbread walls with the cut out spaces for windows on the prepared cookie sheet. Take a few chunks of candy or a pinch of candy powder in the colors you want and put them in the window spaces. You can use a toothpick to swirl the colors together.
Step 6
Put the cookie sheet in the oven and bake for 7 and 10 minutes or until the candy melts. Check the cookie sheet at about 8 minutes to ensure the candy is melting. Take it out of the oven and allow to stained glass windows to cool.
Tip
Instead of using hard candy for the windows, you can tear up gum drops or gummy bears and worms into little pieces and place in the window spaces.
You can also melt colored sugar for the stained glass windows instead of candy.
Warning
You can use a hammer to crush the hard candy. But for safety and to keep from ruining your counter top, place a piece of plywood -- or a thick wooden cutting board -- on the floor and cover your resealable bag well. Hit the bag gently to avoid breaking it.