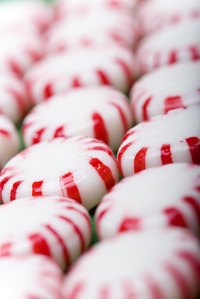 Hard candies are sweets that have been cooked to the hard-crack stage, making them too hard to chew. They must be melted slowly by the natural heat of the mouth. These candies are also used in various recipes after being crushed. Peppermint candies that are crushed are used to flavor hot chocolates and to give a minty crunch to chocolate candies or coatings. These candies can be crushed using a simple technique.
Things You'll Need
Cutting board
Plastic food storage bag
Hammer, rolling pin or meat tenderizer
Place the hard candies that are to be crushed into the plastic food storage bag and seal the bag.
Lay the bag on the cutting board.
Strike the bag with the hammer, rolling pin or meat tenderizer until the candy is crushed fine enough for your purposes. A light stroke is generally all that is needed.