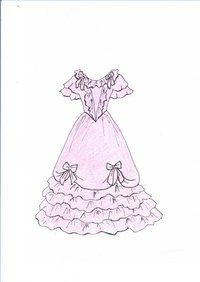 When one pictures a Southern belle, visions of grace and elegance come to mind in the form of hoop skirts covered with layers of ruffles. It's easy to imagine ladies carrying parasols, their long hair in banana curls, sauntering across shaded summer lawns under generations-old oak trees. Romance and femininity are a natural part of Southern belle dresses. Organza or other filmy material is ideal for these light and airy gowns. You can make your own Southern belle dress in any color by following the directions included here. From lace to ruffles, add whatever kind of detailing you wish.
Things You'll Need
Organza fabric
Ribbons
Elastic
Zipper
Square dancing crinoline or hoop skirt
Needle and thread or sewing machine
Cut the back and front pieces of the bodice. The back will be in two halves so a zipper can be added. Taper the bodice to a point in front, keeping it flat in back. Cut fabric for four cap sleeves, two on either side, one fitting under the other. Assemble the bodice, adding a zipper for easy closure.
Create a ruffle in the same fabric as the dress to use as trim for the rounded neckline. Use elastic to make it puff out along the top. Sew two ruffles to the front of the bodice, one on either side on the front, descending from the shoulders so they curve downward and meet at the pointed waist. Add two small satin bows to the shoulders above the ruffles. Attach the cap sleeves to the bodice.
Make the skirt's top layer in several panels to create fullness. Gather it with elastic at the waist. Plan for the top layer to hang halfway down from the waist, ending near the knees. Add a ruffle along the bottom of the top layer.
Pull up two sections of the skirt as the illustration shows. Tack them with small stitches in two spots so they create a ballooning effect in front. Below the top layer, add four layers of wide ruffles descending to the bottom of the dress.
Stitch two satin bows to the front sides of the skirt in a matching color.
Sew the bodice to the skirt, letting the pointed waist show over the waistband of the skirt.
Wear a hoop skirt or square dancing crinoline to make the skirt even fuller. The crinoline will make the skirt fall from the knees down.