Years ago I took a cooking class from a man who referred to himself as "A Chef to the Stars." Years of spending his days cooking up everything from duck confit to fried chicken for Hollywood A-listers honed his ability to produce great meals quickly to satisfy his clients every whim in a hurry. Steak was a common request, "Even for those who claim in interviews to be staunch vegans!" he said with a laugh. He taught us his method that always gave him the perfect results, one he only deviates from if he has access to a grill.
"Season, Sear, Oven" he called it. It gives you the gorgeous sear and the perfectly pink center every time. Years later, it's my favorite way to cook steak, even if I do only cook for common folk.
Tip
Make the Right Choice (or Prime). Look for a steak that is labeled either "Prime" or "Choice." These are the best cuts of steak, with Prime being the best and most expensive. Choice is the second best designation and often costs much less. Select is well below these other two and will give far inferior results. If a steak is not labeled it is most likely below even the "select" designation.
Things You'll Need
1 good quality steak, about 1½ inches thick

1 teaspoon kosher or sea salt

1 tablespoon olive oil[](http://www.ehow.com/how_7017935_clean-restore-cast-iron-skillet.html)
Step 1: Season, Liberally
Remove the steak from the refrigerator and pat dry. Sprinkle liberally with salt on both sides and allow to come to room temperature, about 30 minutes.
Step 2: Sear
Preheat the oven to 350 degrees F. Heat the olive oil in a cast iron skillet until very hot. Carefully add the steak allowing to cook until a crust forms on the bottom, about 2 minutes. Flip over and cook on the other side for 2 minutes.
Step 3: Roast
Place the skillet in the oven, cook for 5 minutes for medium rare. Remove from the skillet and place on a cutting board, allow to rest for 5 minutes before cutting and serving.
Tip
Skip the steak sauce. If you want to add a little pizzazz just place a pat of blue cheese compound butter on top of a warm steak for added richness.
More Meat Recipes
Want more meat recipes? Try any of these delicious dishes this week!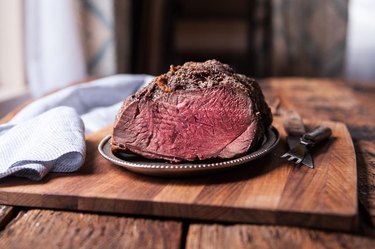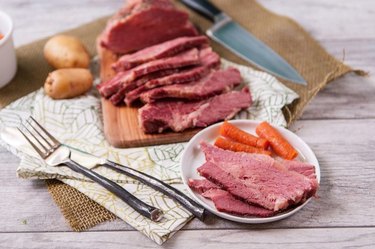 And Then Serve It With This...