While comforting breakfast food has the reputation for being unhealthy and loaded with carbs, it's fully possible to create a delicious and nutritious low-carb breakfast recipe. Breakfast casseroles (similar to a frittata) are easy to bake, feed plenty of people, and are a great go-to for those times you're looking for something filling that won't put you in a food coma. This breakfast casserole recipe is easy to modify to your own taste. While bell pepper, onion, mushrooms, and sausage make this meal flavorful, you can also substitute in any of your favorite hearty vegetables, and/or bacon and ham (see below for suggestions). Also feel free to use your favorite cheese, or go cheese-less!
Things You'll Need
2 tablespoons olive oil

½ yellow onion, finely chopped

1 red bell pepper, cored and chopped

4 to 6 baby bella mushrooms, chopped

½ teaspoon sea salt

½ teaspoon fresh cracked pepper

1 pound breakfast sausage

12 large eggs, beaten

¼ cup half & half, optional

6 ounces Gruyere cheese, grated
Step 1: Saute the Vegetables
Add the olive oil to a medium-sized skillet, and heat to medium-high. Add the yellow onion and saute, stirring frequently, until translucent, about 3 to 5 minutes.
Add the bell pepper, mushrooms, salt, and pepper. Saute, stirring occasionally, until vegetables have softened and are very fragrant, about 5 minutes. When finished sauteeing, transfer veggies to a bowl and allow them to cool.
Step 2: Cook the Sausage
Use the same skillet you used for sauteeing the vegetables to cook the sausage. Add the ground sausage to the skillet, chop into bite-sized pieces using a spatula or wooden spoon, and cook stirring occasionally, until meat has browned and is cooked through, about 5 to 8 minutes. If the sausage you're using is very fatty, drain the fat once the meat is cooked.
Transfer the sausage to the same bowl as the vegetables and let everything cool for a few minutes.
Step 3: Beat the Eggs
Crack all of the eggs into a large bowl, and whisk well until creamy.
If desired, add half & half to the bowl with the eggs, and whisk until combined.
Step 4: Prepare the Breakfast Casserole
Preheat the oven to 375 degrees F, and lightly spray or oil a 13" x 9" casserole dish. Once the vegetables and breakfast meat have cooled, transfer them to the bowl with the beaten eggs, along with half of the grated cheese. Stir everything together until well-combined.
Pour the casserole mixture into the prepared casserole dish.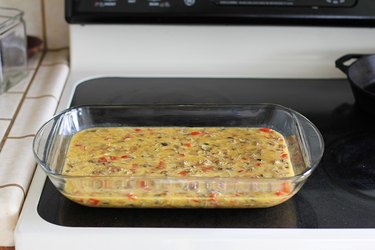 Sprinkle the other half of the cheese on top of the casserole mixture. Bake on the center rack of the oven for 40 to 50 minutes, or until the top is golden-brown and casserole is cooked through.
Once cooked, allow breakfast casserole to cool 10 minutes before cutting large chunks and serving with your favorite toppings, such as sour cream and salsa.
Tip
If desired, change up the vegetable combination, by adding chopped broccoli, spinach, grated carrot, kale or zucchini.
Add 6 to 8 pieces of chopped cooked bacon to substitute for breakfast sausage.
Use 1 ½ to 2 cups of cooked cubed ham in place of breakfast sausage if desired.
Instead of Gruyere cheese, you can use sharp cheddar, jack, gouda, and/or mozarella.