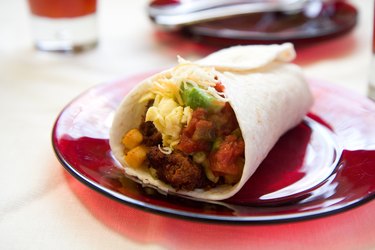 Start to finish: 25 minutes Servings: 2 Difficulty Level: Beginner
The Mexican version of chorizo and eggs, known as chorizo con huevos or huevos con chorizo, is a simple dish of scrambled eggs and loose, spicy sausage. It's a breakfast standard the way eggs and bacon are in the U.S. and comes together quickly enough for an everyday meal.
Ingredients
2 to 4 links (about 1/2 pound) of Mexican-style chorizo sausage, casing removed
4 eggs
Directions
Warm a heavy skillet, preferably cast iron, over medium heat. Add the chorizo and cook until it is browned.
Pour off any excess fat from the skillet.
Crack the eggs into a bowl. Beat them lightly with a fork or whisk.
Pour the beaten eggs over the sausage in the skillet. Let the mixture sit in the pan for about 20 to 30 seconds, then with a wooden spoon or spatula, gently lift the egg from the bottom of the pan and fold it over itself. Repeat this lifting-and-folding motion every 10 seconds or so until the eggs are just set.
Remove the eggs and chorizo from the heat and let it sit for a few more seconds, then gently scrape them out of the pan onto plates to serve.
Tips
Add diced cooked potatoes to the scramble.
Saute chopped onion with the sausage if desired.
Optional garnishes include diced avocado, salsa, refried beans, grated or crumbled cheese and a sprinkling of fresh cilantro.
Use the chorizo and egg mixture, with or without potatoes, as a stuffing for breakfast burritos or breakfast tacos.
Mexican chorizo is a loose, crumbly, spicy pork sausage. It's very different from Spanish-style chorizo, which is firm and dry. Spanish chorizo does not need to be cooked as it's already cured, but it may be diced and incorporated into an egg scramble or tucked into an omelette. Or slice it, warm it briefly in a skillet and serve it alongside your favorite egg preparation.
Warnings
Mexican chorizo is raw, not cured like Spanish chorizo, so make sure it is thoroughly cooked before adding the eggs.