A taco salad is the perfect easy weeknight meal and is one of my favorite dinners to whip up in a hurry. It's not only simple, but you can control the ingredients, which is always a healthier option (plus, it's sure to taste better than any restaurant-made taco salad). This recipe is perfectly spicy, and topped with fresh ingredients creating the perfect balance of flavors and texture. I know it will quickly become one of your favorite recipes to make every single week!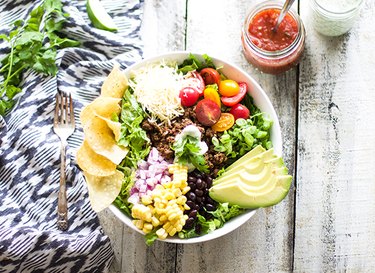 Things You'll Need
1 pound extra lean ground beef (can substitute ground turkey)

2 tablespoons taco seasoning

1 head of romaine lettuce, sliced in shreds

2 ears of fresh corn


1/4 cup diced red onion


1/4 cup diced green onion

1/2 cup grape tomatoes

1/2 cup grated pepper jack cheese

1/2 cup canned black beans, drained and rinsed

1 ripe avocado, sliced

1 cup Greek yogurt

1 packet ranch dressing seasoning

1/2 cup cilantro

1/4 cup fresh lime juice

1 teaspoon salt

1/2 teaspoon black pepper

Salsa for topping

Tortilla chips for topping
Tip
Feel free to add or subtract any of your favorite taco salad toppings.
Step 1: Remove Corn Kernels From Cob
Cut off the corn kernels from the corn cob by placing the bigger side of the cob standing up on a large plate. Carefully cut down the sides of the cob to remove all kernels. Set aside.
Tip
If the corn is sweet, I leave the corn raw. This ensures great texture and I love corn's natural flavor!
Step 2: Make Cilantro Ranch Dressing
Combine Greek yogurt, ranch seasoning, cilantro, and lime juice in a blender or food processor and combine until smooth. Set aside.
Step 3: Cook Ground Beef
Heat a skillet over medium high heat and add the ground meat, salt, and pepper. Cook for 5 minutes and then add the taco seasoning and continue to brown the meat for another 10 to 12 minutes or until the meat has cooked through.
Step 4: Assemble the Salad
Assemble the salad by layering romaine lettuce, corn, red onion, green onion, tomatoes, cheese, black beans, avocado, and ground meat. Top with the cilantro ranch dressing, salsa, and tortilla chips. Serve immediately.
This taco salad is so full of flavor that you will be craving this recipe on a regular basis. It's so easy that you will have dinner on the table with no stress involved!