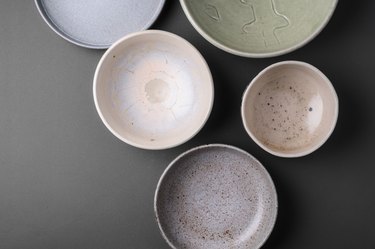 You've probably been there: Your favorite ceramic bowl gets chipped or cracked, much to your disappointment. If you know how to repair a hairline crack in a ceramic bowl, though, you can fix it and forget that it ever happened. There are also ways to fix other kinds of damage to these bowls.
The two most common kinds of products used to repair ceramics are super glue and epoxy glue for ceramic. Super glue contains cyanide-derived cyanoacrylate to form bonds, requiring no mixing and drying in mere seconds. It works well on hairline cracks and in other thin spaces, such as the broken rim of a ceramic planter.
Epoxies are made with resins and hardeners that you need to mix together. They are suitable for filling in larger cracks, scratches, dents, joints and holes. These products take longer to dry since they are thicker, but they are stronger than super glue. Once applied, you can sand down and paint epoxies to match the ceramic piece and camouflage your work.
If you want to use super glue to repair a ceramic piece, keep in mind that you must work quickly because these products dry fast. You will need to hold the pieces together, precisely apply the glue and hold them tightly for about a minute.
If you get it on your skin, do not panic. Most medical professionals suggest washing the area with a lot of dish soap or hand soap and water. Otherwise, rub some mineral oil, petroleum jelly or hand lotion onto the skin. As a last resort, use a small amount of nail polish remover with acetone. Do not pick at the hardened glue or try to pull it off your skin.
While super glue products are easier to use and dry faster, they are not 100 percent waterproof like epoxies. Some ceramic glues are water-resistant, though. You can find epoxies in different colors or without any color at all. Make sure that you look at the applicator tips, as a very small and precise one will be well-suited to repair a hairline crack in a ceramic bowl.
More About Super Glues and Epoxies
Always be sure to clean and dry your ceramic piece before attempting any repairs with these products. If the ceramic is dirty or wet, the products might not work. Be sure to take your time because if you make the repair and the pieces are out of place by even a tiny bit, it will not look right.
Epoxy glue for ceramics must first be mixed, and it can take a few tries to get the ratio correct. Once combined, use it within three minutes or it will harden. You might need to use a clamp to hold the pieces together until the bond forms. If you need to repair a ceramic mug or any other item used for food or drink, only use glues or epoxies that are FDA-approved for this kind of use.