Things You'll Need
Mixing bowl

Measuring cups

Spoon measures

Corn syrup

Warm water

Corn starch

Red, green and yellow food coloring

Powdered cocoa

Sponge

Cloth, costume or carpet that will be stained with the fake blood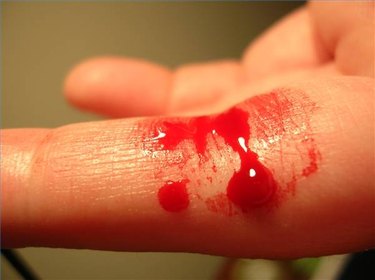 Planning a murder mystery night, putting the finishing touches on a vampire costume, or planning to scare your parents when they come home? There are plenty of great reasons to make a fake blood stain, and with a few household ingredients, you'll be making your own in no time. The following recipe makes about a cup of fake blood.
Step 1
Mix 2/3 cup of corn syrup with 1/3 cup warm water. Add 5 tbsp. of corn starch.
Step 2
Add 1 tbsp. of cocoa powder to the mixture, and stir until it dissolves. Squeeze about 4 tsp. of red food dye into the mix.
Step 3
Darken the mixture using a few drips each of the yellow and green food dye so it takes on a darker, more convincing blood color.
Step 4
Use the sponge to soak up some of the blood. Squeeze, drip or dab it onto the desired area to create a blood stain.
Warning
This stain may not come out of clothing, so beware before applying it to carpeting or clothing that cannot be disposed of.