Things You'll Need
Guest list

Party invitations

Sample menu

Reservations for the restaurant

Party decorations- streamers, balloons, tablecloths and napkins

Games- large baby bottle bank, cut up index cards, markers, Gerber baby food varieties

Party or table favors such as glass votive holders, small ceramic favor boxes, Belgian chocolates, small floral arrangements

Cake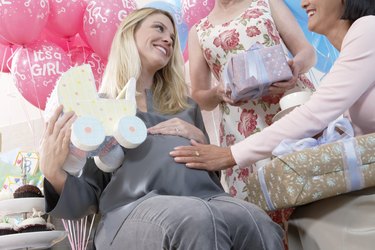 It's time for tiny booties and soft blankets. Hosting a baby shower at a restaurant is an unconventional yet practical solution when your home isn't the best place for the gathering. And if the shower is going to be one attended by everyone from aunts, uncles and cousins to college pals and first grade teachers, then you may appreciate the help with the food and serving. Many restaurants accommodate parties. Letting the restaurant's staff cook, serve and clean up, allows you to focus on socializing, leading the games and oohing and aahing with everyone else over the onesies with yellow ducks.
Step 1
Choose a restaurant by narrowing down names of locations that have food that will be appealing to guests and accommodating to a baby shower. Be sure that the restaurant has accommodations for the number of guests attending.
Step 2
Plan out the guest list including how many people will be coming to the shower. Send out the invitations a month in advance.
Step 3
Create a sample menu of food that will be served at the party. Some good choices are tea sandwiches, soups and a veggie tray. Drinks could include non-alcoholic mimosas, sparkling water, tea, coffee and cola. When setting up the restaurant reservation, be sure to include these requests or for food that the restaurant serves exclusively.
Step 4
Arrive at the restaurant an hour or more early before guests. Lay the tablecloths out on the table and set the party favors in the center of each table. If place settings are not provided, make sure they are set up to accommodate each guest.
Step 5
Set up a table for the cake, presents and mementos of the mom-to-be such as ultrasound pictures or pictures from her childhood.
Step 6
Once guests arrive, suggest they start off with ordering drinks and appetizers. This will allow for mingling and regrouping before the party starts. Once drinks and appetizers arrive, guests can order their food at this time or the staff can begin preparing for the meals.
Step 7
Encourage everyone to participate in games and activities such as "message in a bottle" where everyone can write an encouraging word of wisdom or a caring thought for the new mom-to-be. Messages can be collected and then placed in a large baby bottle. A fun game would be "Guess the Gerber" where guests compete for table prizes by trying to figure out the name of different types of baby food.
Step 8
Motion for the wait staff to begin serving guests food and drinks. Serve cake for dessert.
Step 9
Give away the last of the party favors by drawing names of guests who haven't received a favor yet.
Step 10
Assist the mom-to-be with her gifts and help her load her vehicle. Gather up things left behind by guests, and leave a tip.
Tip
Another alternative would be for guests to order off of the menu rather than have a planned menu.
Choose a restaurant that prepares food the guest of honor will likely enjoy.
Most restaurant or catering centers do not decorate. Be sure to arrive up to an hour early to set up and decorate.
Personalized items such as party favors or the cake are typically not provided by most restaurants.
Order the cake or cupcakes well in advance.
Make sure there is enough room in the restaurant to participate in games and gift giving.