During the annual homecoming game, male high school students in Texas -- as well as parts of Oklahoma, Arkansas and Louisiana -- often don a decorative armband called a "garter" as a coordinating counterpart to the girls' larger and more lavish "mums." These accessories, which resemble an oversized corsage, are traditionally fashioned out of silk ribbons, feathers, charms and trinkets -- and sometimes even teddy bears, flashing lights, bells and horns. Commercially made garters are often quite costly, but you can make one at home for a fraction of the price.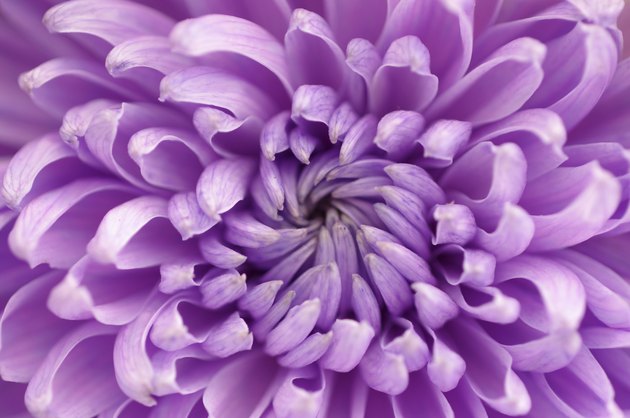 Things You'll Need
Four backing discs of equal size and shape

10 inches of elastic (1-inch width or wider) or pre-made garter belt

Silk chrysanthemums

Ribbon: fabric and curling, in various textures, patterns and colors, as much as 10 yards of each color

Decorative charms, glitters, trinkets, accents

Stapler

Staples

Scissors

Hot glue gun

Glue sticks
Create the Armband
Step 1
Sandwich one end of the elastic band or pre-made garter belt between two of the backing discs and affix with a few staples to secure.
Step 2
Determine the appropriate length for the garter's elastic band. To do so, place the backing disc on the wearer's upper arm and extend the elastic band around the circumference of the arm. Ensure the band is comfortable yet secure enough to support a few pounds of ribbon.
Step 3
Staple the other side of the elastic and disc "sandwich" so the armband is secured at the appropriate circumference. Set aside.
Create the Badge
Step 1
Cut a piece of ribbon that's 4 to 5 inches long. Fold into a "V" shape -- loop it around itself so it creates a point -- and staple the ends together to secure. If the ribbon is very plain, you can place a thinner, accent ribbon on top and loop it with it to add dimension and interest.
Step 2
Repeat, creating enough separate ribbon loops -- in the same or alternating color combinations -- to fashion a border that spans the circumference of the backing disc.
Step 3
Place the armband base in front of you with the elastic band facing down.
Step 4
Position your ribbon loops around the outer edge of the top-most backing disc, stapled edge of each loop facing inward toward the center of the disc. Reposition so they're spaced evenly, then staple to secure.
Step 5
Repeat, if desired, and create additional overlapping circles of ribbon loops. Be sure to leave enough space within the "nest," however, to insert your silk flower.
Step 6
Use your scissors to clip all except an inch of the stem off your silk chrysanthemum. Remove unwanted greenery from the flower and stem that remains.
Step 7
Use a hot glue gun to apply a generous amount of glue over the stapled edges of ribbon loops and undecorated middle portion of the backing disc.
Step 8
Press the back of the silk chrysanthemum into the hot glue while it's still soft, taking care to insert the stem portion into the hole -- if there is one -- at the center of the backing disc. Press around the face of the flower to ensure secure adhesion. Set aside.
Create the Tail
Step 1
Measure or estimate the desired length of the ribbon tail. Cut a strip of any ribbon at this length.
Step 2
Staple one of the raw ends of the ribbon to the third backing disc so the tail hangs at the desired length. When sold commercially, boys' garters are typically 15 to 18 inches long.
Step 3
Repeat, layering with alternating ribbon types, colors, widths and textures.
Step 4
Curl gift-wrapping ribbon against a pair of scissors to create spirals. Affix a few of these onto the disc with staples.
Step 5
Create a few ribbon chains -- which add extra dimension and texture -- by braiding several strands of ribbon together. Staple these chains to the backing disc, interspersing them with the flat strips of ribbon.
Step 6
Affix other hanging decorations, if any, to the backing disc. Attach a few strings of plastic beads, for example, or staple in a thin feather boa. Don't try too hard to make everything neat; this layer will be sandwiched against the other backing discs and your stapled ends completely concealed.
Step 7
Write or apply names, graduation date and other wording along some of the ribbons -- using appliques, glitter and glue, or a stencil and a paint pen, for example. Traditionally, a boy's garter includes his date's name, but you can add anything you'd like.
Step 8
Use hot glue to affix other trinkets and charms to the strands of ribbons.
Step 9
Continue adding texture and additional strands of decorations until you are satisfied with the thickness of the garter's tail.
Put Everything Together
Step 1
Stretch the elastic armband around the front of the chrysanthemum, ensuring it's out of the way but not squishing the flower.
Step 2
Cover the stapled edges of ribbon -- on the backing disc with the ribbon tails -- with a generous amount of hot glue. Press this to the underside of the badge portion, taking care to position the ribbon tail so it is perpendicular to the armband. You'll also want to ensure you've moved the armband out of the way so it doesn't get sandwiched between the glued layers.
Step 3
Press the layers of backing discs together to ensure maximum adhesion. Apply hot glue and press layers together anywhere you see holes in the "sandwich."
Step 4
Use hot glue to affix charms, a plush animal or other trinkets to the chrysanthemum badge.
Step 5
Allow the glue, paint, glitter and other decorations to set up and dry overnight.
Tip
If you cannot locate backing discs, make your own -- in any shape, and anywhere from 6 to 8 inches in diameter -- out of poster board or thin cardboard.
Several braided ribbon patterns can be incorporated, including box, military, square and victory braids. Each will bring a varied dimension and texture to your garter.
Be creative when selecting decorations for your garter. Garters and mums are known for their abundance of add-ons, such as plush animals, rhinestones, feathers, letter stickers, curling ribbon, tulle, garland, glitter, miniature footballs, fabric pom-poms and battery-powered lights.
A large bow under the chrysanthemum badge may help to balance a lopsided garter or hide edges that aren't as clean as you'd like.