Things You'll Need
1 (3- to 5-lb.) venison tenderloin

1 cup red wine

1/2 cup apple cider vinegar

1 onion

3 cloves garlic

Marinating pan

Cheese grater

Roasting pan

Meat thermometer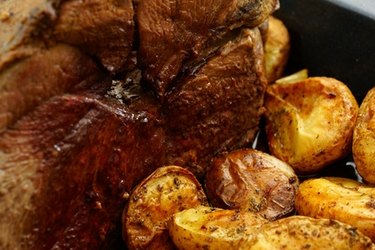 The term "Venison" refers to any type of meat that comes from a deer. This includes deer that are hunted in the wild and deer that are raised on a farm. Venison tastes a lot like beef, but is a substitute for those who are more health conscience. It is much leaner and lower in calories, fat and cholesterol.
Step 1
Grate the onion and garlic cloves with a cheese grater and place them in a marinating pan.
Step 2
Add the wine and vinegar to the marinating pan and combine all the ingredients.
Step 3
Place the venison tenderloin in the marinating pan and scoop the marinade all over the venison.
Step 4
Set the covered marinating pan in the refrigerator for six hours. Flip the venison tenderloin over and marinate another six hours.
Step 5
Turn your oven on to 350 degrees F.
Step 6
Transfer the venison from the marinating pan to the roasting pan. Pour marinade all over the venison.
Step 7
Cook for two hours or until the meat thermometer reads between 155 and 165 degrees F.
Step 8
Let your venison roast sit for 10 minutes before carving.
Tip
Carve the venison tenderloin and spoon some of the cooked marinade over the top. Serve roasted veggies, a potato and wine with the meal.