Things You'll Need
Sweatshirt

Pins

Scissors

Separating zipper

Sewing machine

Needle and thread (optional)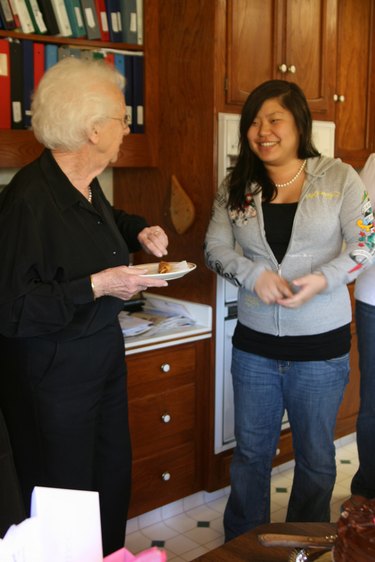 A cardigan is a type of shirt that opens in the front by means of a zipper or buttons. Most sweatshirts are pullovers, meaning they have no openings in the front. A cardigan is an excellent piece of clothing to use for layering when you know you will need to remove a heavy item of clothing at some point. Turning an old, frumpy sweatshirt into a zippered cardigan is simple and requires minimal sewing knowledge.
Step 1
Use scissors to cut off any ribbing around the sleeves, hem and neckline of the sweatshirt. Fold your sweatshirt in half. Make sure the shoulder seams match up, and pin the two halves together, so that they do not move. Cut the front layer of the sweatshirt open. Do not cut the back of the sweatshirt, as this needs to remain intact.
Step 2
If you would like to change the neckline of the sweatshirt or do any other custom tailoring such as fitting it to your shape, do so now. You may cut the neckline into a deep V-shape or a more rounded boat neck. Choose a neckline that compliments your fashion style and body type. Add darts or stitching to shape the garment to your body, if desired.
Step 3
Use your sewing machine or needle and thread to sew a zipper of an appropriate length to the newly opened front of your cardigan.
Tip
Do not worry about hemming the raw edges of the sweatshirt. They will not unravel in the wash or through normal wear.
Feel free to attach embellishments to your cardigan to personalize it. Lace, sequins, beads, embroidery or fabric paint are all viable options.
Warning
Be careful when using sharp objects, such as scissors or pins. Also use caution around any object with moving parts, such as a sewing machine.