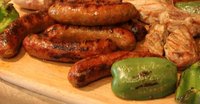 Kolbasz, or Hungarian smoked sausage, is a combination of pork and other meat mixed with pungent spices, stuffed in sausage casing and smoked for hours to cure. The bold flavor of kolbasz makes a hearty main dish. It is well suited to dishes that include the bright fresh flavors of garden vegetables. Fresh and dried fruit are another favored accompaniment. So get ready for a savory ethnic meal and use these steps to cook Hungarian smoked sausage.
Things You'll Need
Heavy fry pan
Vegetable oil
Sweet peppers
Apple cider vinegar
Prunes
Yellow onion
Apple juice
Cut 3 sausages on the diagonal into 3 pieces each. Add 1 tbsp. vegetable oil to a heavy fry pan. Place the sausage pieces in the pan and over medium heat, turning frequently until the sausage is browned and crispy. Remove the sausages and set aside.
Remove stem, seeds and spine from 2 green peppers, 2 red peppers, and 1 yellow or orange pepper. Slice the peppers into 1/3-inch strips. Toss the peppers and into the pan and saute over medium heat until they are lightly browned. Sprinkle 2 tbsp. of apple cider vinegar and 1 tsp. salt over the peppers. Turn several times, scraping the browned bits off the bottom of the pan.
Return the cooked sausage pieces to the pan and mix in with the peppers. Turn heat to low and cook together for 5 minutes. Spoon onto plates and serve with warm, crusty bread.
Cut 1 cup of pitted prunes into halves. Cover the prunes with 1 1/2 cups very hot water and allow to sit for half an hour. Drain off excess water.
Saute 1 large yellow onion, thinly sliced, in 1 tbsp. oil until light brown. Add the soaked prunes, 1/2 tsp. paprika, 1 tsp. salt and 1/4 tsp. freshly ground black pepper. Pour in 1/2 cup apple juice and stir over high heat until the mixture starts to bubble.
Turn heat to low and add 4 whole Hungarian smoked sausages to the pan. Cover the pan with a lid and allow heating through completely. Serve one sausage per plate with a spoonful of the prunes spooned over it.