Things You'll Need
Degreasing solution

Sponge

Clean rags or cloths

Plastic basin

Screwdrivers

Old toothbrush

Rubber gloves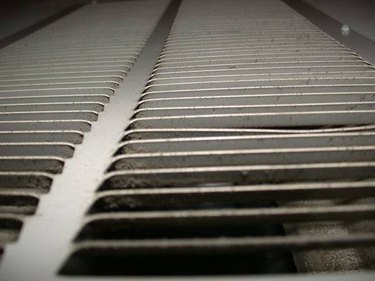 There are two types of air vents in the average kitchen: duct vents and over-the-range hood vents. The duct vents recirculate the air in the kitchen through the central air conditioning and heating system. Range hood vents help to remove grease, steam and unpleasant odors from the kitchen. Over time, these kitchen vents can become coated with grease and dirt. It's important to clean the vents regularly to keep them functioning properly and to prevent grease fires.
Step 1
Remove the silver-colored metal filters from the vent hood. Soak them in a solution of hot water and a common household degreaser such as dish soap. Allow them to remain in the solution until the grease has softened.
Step 2
Wash the kitchen vent filters in the warm, soapy water with a sponge or toothbrush. Dry them with soft, clean cloth.
Step 3
Clean the interior of the vent hood with a household degreaser. Wipe away any excess cleaner with a clean cloth. Wipe the fan blades to remove any grease and dirt. Wash the exterior of the vent hood with a cloth dampened with warm, soapy water.
Step 4
Remove the vents from the walls and ceiling with a flathead screwdriver. Set a plastic basin inside the kitchen sink and fill it with warm water and one tablespoon of dish-washing liquid.
Step 5
Put on some rubber kitchen gloves. Scrub the vent with a plastic scrubber on both sides. Use an old toothbrush to remove any stubborn stains or grease that have gotten caught in the slats of the kitchen vent. Manipulate any moving parts to gain better access to the soiled areas.
Step 6
Lift the plastic basin up and dump out the dirty water. Rinse each vent thoroughly under warm, running water.
Step 7
Use an old rag such as a cut-up sock or worn-out dish towel to dry the kitchen vent. Place the rag down on a counter and lay the vent on top of it so that any remaining water can evaporate.
Tip
Don't attempt to clean the charcoal filters inside your range hood. Instead, replace them when they become clogged and dirty. You can wash stainless steel filters in the dishwasher. Depending on your model, you may need to remove the front panel from the vent hood with a screwdriver to clean it and reach the fan assembly.
Warning
Never use abrasive pads such as steel wool to clean your kitchen filters, air vents or vent hood.