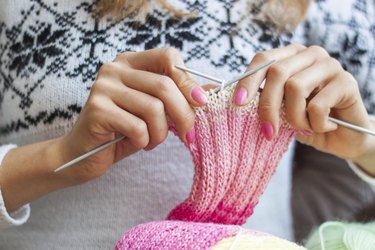 Men's fashion is often a little more subdued than women's fashion, and winter wear is no exception. If you want to make a scarf for the man in your life, consider his personal sense of style and his favorite colors when starting your knitting project. Knitting a scarf for a man can be as simple or as intricate as you like -- and getting the right fit is often as simple as knowing how tall he is.
Sizing
According to knitting guru Stephanie Pearl-McPhee, a men's traditional scarf is 12 inches wide by 60 inches long. A long winter scarf (with enough length to wrap around the neck once or twice) is typically 10 inches wide by 80 inches long. If you want to customize the scarf to the wearer, a good rule of thumb is to make the scarf as long as the recipient is tall. If the man you're knitting for is 6 feet tall, make the scarf 6 feet long.
Yarn Choices
There's a wide array of yarn choices available to knitters today. Wool holds in warmth and keeps the wearer warm even when it's wet. Acrylic is available in a veritable rainbow of colors and is machine washable and dryable. Luxury fibers like alpaca are warm and lightweight.
Consider the recipient's level of responsibility when you're knitting the scarf. If he's likely to just toss the scarf in the washer and dryer, stick with acrylic or superwash wool. If he's the type to religiously follow handwashing directions regularly, splurge on a non-superwash wool or luxury animal fiber.
Stitch and Design Choices
Most men wouldn't wear a lacy scarf, so steer clear of stitch patterns that can seem a little too feminine. Basic garter stitch is a good bet, as are cabled or aran patterns, which can seem more masculine. You can also opt for stripes, chevrons or any other manner of colorwork that will give your scarf a creative boost. Stay away from stockinette stitch (knit one row, purl one row) scarves, unless you add a decorative border -- otherwise the scarf will curl. For best results and to avoid curling, choose a stitch pattern that utilizes knit and purl stitches in every row.
Knitting the Scarf
First, figure out your gauge -- that is, how many stitches you get to the inch. The label on your yarn will give a suggested needle size and a sample gauge. Once you've knit a gauge swatch and measured the number of stitches you get per inch with your chosen needles, multiply the number of stitches per inch by how wide you want your scarf to be to determine the number of stitches to cast on. For example, if you get 6 stitches per inch and want your scarf to be 10 inches wide, you'd cast on 60 stitches. Knit in your desired stitch pattern until your scarf measures your desired length (60 inches, 80 inches or the height of your recipient, for example.). Bind off and weave in any loose ends.