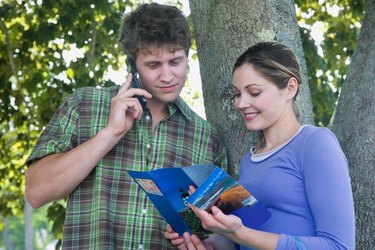 Brochures share a lot of information about a particular topic in a small space that is easy to read, which makes them a perfect way to present a project for school. A brochure is made from a regular-sized piece of paper that has been folded into equal thirds to make six panels. Brochures can be handmade or generated by a computer using different computer programs.
What's in a Brochure?
Each brochure panel should contain an image and a subtopic of your subject. Text should be concise, sharing only essential information to inform the reader.
Front Panel This should contain an image related to the topic as well as a title and a byline, stating who wrote the brochure. For example:
The History of Barcelona by John Doe
First Interior Panel The first panel when you open the brochure should contain an introduction to your subject so your reader knows what your brochure is about (for example, when Barcelona was founded, who founded it, etc.).
Panels Two, Three and Four These panels should discuss three subtopics of your main subject (for example, three important events in Barcelona history).
Back Panel The back panel should contain a short summary of your subject and references, citations and suggestions for further reading.
Formatting a Brochure
A brochure's format is very specific to fit a lot of information in a small space that is easy to read.
Text Text should be small but readable. For computers, use font size 10-12 and easy-to-read fonts such as Times or Helvetica. If writing by hand, print your text. Do not use cursive.
Images Images should be small but easy to see. Wrap text around images to maximize space. Cite the source of your images on the back panel.
Folding Fold 8.5-inch x 11-inch paper into equal thirds so each panel is about 3.6 inches wide.
Create a Brochure by Hand
Create a brochure by hand with paper and craft supplies. When decorating your brochure, keep the color scheme simple, but add your own fun touches by outlining images and borders.
Supplies 8.5-inch x 11-inch Paper Black pen Glue Markers Scissors Images
Make a Brochure Fold your paper into equal thirds. With markers, draw a thin border around each panel of the brochure in your chosen colors.
Print small images from your computer or cut them out from magazines or newspapers. Glue the images to your brochure panels. Or, if appropriate to the topic, draw your own images.
Using black ink, carefully print your information on each panel, keeping writing small and neat.
Create a Brochure on a Computer
Microsoft Word and Apple Pages can provide ready-made brochure templates to fill in and customize.
Open a new file and choose a brochure template. Fill in text and replace images with your own. Adjust image and text size to customize your brochure and fit your information, while keeping it easy to read. Experiment with changing the template's colors to make the brochure your own, and be sure to print in landscape.
If you'd like a more customized brochure, Adobe Photoshop and InDesign can produce unique designs with a little more technical tweaking.