Things You'll Need
Melamine dry erase panel

Dry erase marker

Tape measure (optional)

Straight edge (optional)

Two sawhorses

Circular saw

Sandpaper

White dry erase paint

Fine paint brush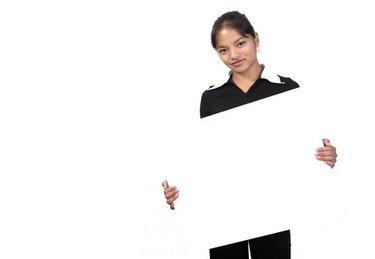 Dry erase boards, also known as whiteboards, have all the advantages of chalkboards without any of the hassles. Using a chalkboard requires chalk, which generates a lot of chalk dust. Also, getting a chalkboard looking completely clean requires concentrated effort, and you must pound chalkboard erasers regularly. Dust-free dry erase boards avoid these problems. You can purchase an entire dry erase panel from a home-improvement store, and then cut the board to whatever size or shape you need.
Step 1
Draw your cut lines onto the white surface of your dry erase board. For the best results, use a measuring tape and a long straight edge to make sure everything is even.
Step 2
Place your dry erase board on top of two sawhorses. Space the sawhorses far enough apart that you don't have to worry about cutting into them when you cut your dry erase board.
Step 3
Use your circular saw to cut the dry erase board down your cut lines.
Step 4
Sand any rough edges you see. Mix your dry erase paint according to its packaging directions. Apply the paint to the edges you sanded. Allow the paint to cure for two days before hanging the dry erase board or marking on the painted area with dry erase markers.