Things You'll Need
Glass paint

Glass markers

Rub-on transfers

Burnisher

Labels

Stickers

Mod Podge

Buttons

Ornaments

Glass glue

Labels

Beads

String

Food-safe spray paint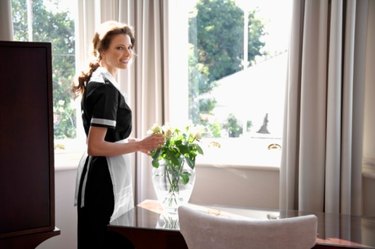 Making your own decorative bottles is a fun hobby, a great way to decorate for weddings and parties or even for a home business. Decorated glass bottles and jars can be used for spice bottles, herb and vinegar bottles, jars for preserves, containers for your own homemade floral water and fits. You design your bottles to mimic antique bottles or create a bottle that reflects the colors in your home.
Step 1
Paint on free-hand or with stencils. Craft stores sell paint and markers specifically for glass, including beautiful metallics and a material that rises above the glass surface to look like the lead connecting different glass colors in antique stained glass. For some, bake them according to the instructions to make the paints permanent and wash-proof.
Step 2
Use rub-on transfers meant for paper. Purchas transparent rub-ons at scrapbooking and craft stores. Adhere them according to the instructions that come with the package -- typically, this requires a burnisher. Adhere them in any pattern. Use thin, transparent laminate film available at craft stores to peel and cover the rub-on to make it waterproof.
Step 3
Affix bottle labels and stickers. Use thin, transparent laminate film available at craft stores to peel and cover the sticker once it's on the bottle to make it waterproof.
Step 4
Affix cutouts with decoupage. If your glass bottle is wide enough at the top and won't carry food items or liquid inside, you can affix cutout images to the inside so you can see them from the outside. Cut out images from wrapping paper or other sources. With a sponge, paint Mod Podge, found at craft stores, to the front of your cutout image. Stick the image to the inside of the bottle or jar so you see it from the outside of the bottle. Let dry and coat the back of the image from inside the bottle to further seal it. Let dry and repeat.
Step 5
Glue-on decorative items. Buttons, jewels and other flat-backed ornaments can be glued directly and permanently onto glass bottles. Craft stores also sell this glue, along with many inexpensive decorations that work with glass.
Step 6
Affix labels with ribbon or metallic string. Tied on bottle labels can be useful or decorative. Find floral trinkets, beads or inexpensive pendants at beading, hobby or craft stores, string them with ribbon or attractive string, and tie to your glass bottles.
Step 7
Spray paint the outside of your lids with food-safe paint if they'll be used for consumables. Spray paint comes in shimmering metallics, bright colors or subdued colors. If large enough, lids can also be decorated in most of the ways described above for glass.