Things You'll Need
Pry bar

Hammer

Safety glasses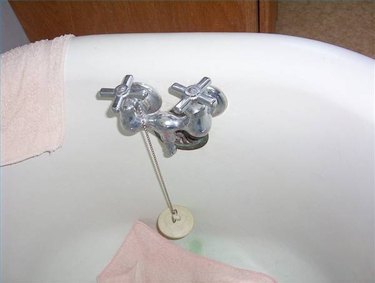 You're remodeling the bathroom, and the tub is the next thing to go. But it's made of what looks like immovable steel. Roll up your sleeves and put on your safety glasses. Before you know it you'll be on the way to the next stage of your project and the tub will be out of there.
Step 1
Remove all plumbing apparatus that connect to the tub, including the handles, faucet, shower diverter, water valves and drain lever. The tailpiece and drain pipe will have to be accessed from below the tub.
Step 2
Open the walls by removing all tiles, panels and other materials until the studs are bare by inserting a pry bar under the outside edge of the shower wall and pulling out. Once the first piece is loosened the rest will be easy to remove.
Step 3
Pull any nails that may be holding the tub to the studs. These will usually be located along the top rim of the tub. Check beneath the tub for other anchors.
Step 4
Slide the tub straight out from the wall. While steel bathtubs are reasonably lightweight, you may need a helper with the removal due to the awkward size of a bathtub.
Step 5
Turn the tub on its side to carry it out the door.
Tip
While the tub is out, it's a good time to check for any water damage beneath and behind the shower area. Check with your local waste management company as to their regulations on picking up remodeling debris.
Warning
If your tub is much heavier than you expected, it is probably made of cast iron rather than steel and you will need to use a saws all or sledge hammer to break it up.