Things You'll Need
1 pound ground beef

1 cup chopped onion

2/3 cup diced green or red bell pepper

2 cloves of garlic, minced

1 can whole kernel corn

1 8-ounce can tomato sauce

1 7-ounce can green chiles (or two 4-ounce cans)

1 can chili-ready diced tomatoes

1 can red kidney beans

2 tablespoons chili powder

1 tablespoon ground cumin

1 teaspoon olive oil

Sour cream

Shredded cheese

Nacho or corn chips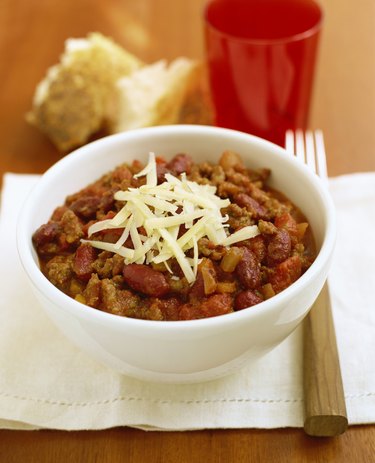 After you make this healthy and delicious recipe for chili, you'll never want to buy storebought chili again. And, it's easier than you might think -- there's only one pot you have to use, and the dish can be ready in about 30 minutes. It's perfect for a chilly winter night.
Step 1
Dice onion and green or red pepper.
Step 2
Dump ground beef into large pot on stove. Add diced onion, minced garlic and diced pepper. To make vegetarian chili, substitute ground beef with textured soy protein such as meatless ground crumbles.
Step 3
Cook ground beef mixture on medium heat until ground beef is cooked and onions and green peppers are tender.
Step 4
Drain fat from pot and return to stove.
Step 5
Add tomatoes (undrained), corn, kidney beans (drained), green chiles, tomato sauce, chili powder, olive oil and ground cumin. Olive oil lends flavor and healthy monounsaturated fats to this chili dish. Cumin and chili powder are two staples of Mexican and Southwestern cooking.
Step 6
Stir mixture well and heat through.
Step 7
Turn heat to low and simmer uncovered for 15 to 20 minutes.
Step 8
Sprinkle with shredded cheese, top with sour cream, and serve with nachos or corn chips. Serves four to six.
Tip
Add or remove chili powder according to your taste for spicy foods.